Club Day Offers 2nd Chance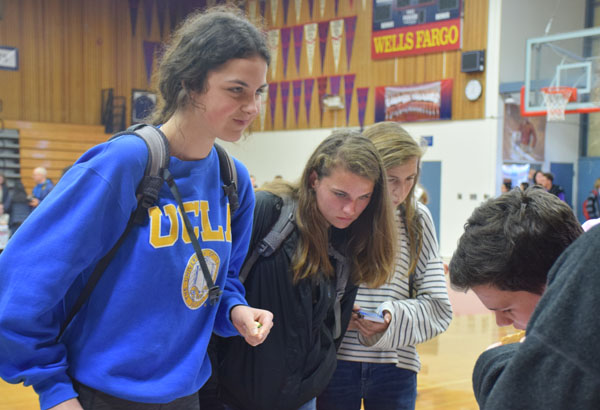 Spearheaded by the commissioner of student affairs, senior Sarah Carrasco, Mini Club Day put clubs both old and new next to electives looking to recruit more students.  The event was held in the gym on February 27.
Mini Club Day is a mid-year version of the annual Club Day that features over 90 organizations vying for membership each fall. Mini Club Day allows for new clubs to be formed in February and old clubs to get more students involved.
Leadership teacher Lindsay Webb-Peplo, who started the event, said, "I believe [Mini Club Day] is really important because the 1st club day, particularly for underclassmen, can be intimidating and overwhelming because they aren't sure how the club system works. I feel like for the 2nd club day, it gives people who were't successful or who want more people a 2nd chance."
Theatre for Free, a newly formed club that writes plays for younger kids to perform for fun, hoped to recruit more members at the event. Member senior Lillian Heutmaker said, "I think its going really well for the clubs people may not have known about before."
This year is only the 2nd iteration of the event, and it is already changing things up by including electives. "I thought of offering the electives because I thought there were just so many interesting things going on on campus and for some reason we can't figure out how to get more students," said Webb-Peploe.
Yearbook member and junior Lara Bloom said, "I think its a really good way to get new people into your club and make your presence known on campus."
20 organizations occupied space in the gym.
The weather may have affected turnout as the rain forced the event into the gym for the 1st time. Webb-Peploe said, while she was feeling positive, "I wish more people would sign up, but I recognize we are working against the rain."
"I think the rain kinda hurts it a little bit. I mean, its not going horrible, but its not going amazing, either," agreed Bloom.
Mini Club Day will continue to be an annual 2nd chance for both clubs and electives to gain more students.