Rat Infestation Disrupts Campus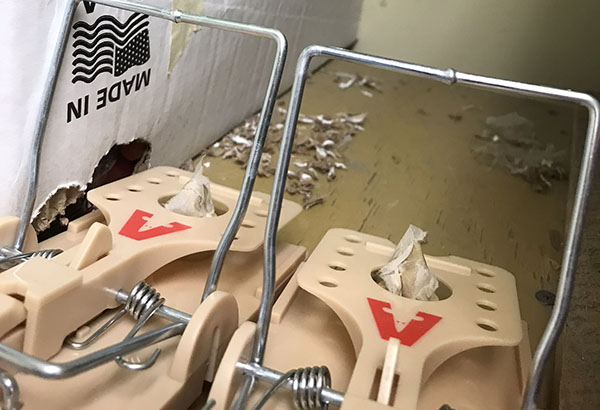 Campus has a rat problem: 1 that's forced art teacher Jill Langston to file an official grievance, math teacher Nita Madra to move her classes, and the environmental science department to remove compost bins since August.
The source of the infestation reportedly began in the art classroom, where the furry invaders destroyed nearly $20,000 worth of supplies. Assistant principal Laura Lee, who is in charge of the administration's response, said that in the art closet, "You could see some chew marks on papers or something, but I think it was D-wing in general. To our knowledge that is where they appeared to be making themselves known."
Langston said she was the one who uncovered the rat problem after she returned from summer break to find rat feces in her supply closet. "I knew that we had rats, and that's when I talked to administration about it," she said.
Langston emailed Lee in late August. Lee said she began taking "proper steps" to address the problem, and issued a work order, a type of maintenance request for the classroom. However, according to Langston, "not a lot got done and that went on for a while so then I continued to email [Lee]."
"We absolutely have to act on it, and we did," said Lee.
Eventually, custodian Jesus Paniagua was sent to Langston's supply closet to try and clear out the rats, but according to Langton, the problem was not resolved.
"More and more feces" were still being found in her classroom. "Those materials were materials that I couldn't give to my students. We did have materials out [in the classroom] and a lot of them that were unaffected, but all the materials in the closet, those were affected because essentially rats had been living in them," she said.
Lee said, "I think there were some concerns that they damaged, some art supplies, which is being taken care of. Anything that's been damaged by the rodents will be taken care of." Lee has had previous experience with a rat infestation at another job, and in her own backyard.
For the art classroom, Langston estimated the damage to "be about $10,000, but it turned out to be twice that amount." Fortunately, they were able to save some of the supplies but still ended up paying $13,000 in total for damages. Although the district will pay for the new supplies, it is up to Langston to shop for the ones she needs in her class, as she is the only one with that knowledge.
But the art class lost more than just money. Student projects were destroyed by the rats, and Langston sometimes had to move students out of her classroom due to concerns that students would encounter rats. The disruption has set her AP art students back the most, by "2-3" projects, according to senior Shae Silva. This is especially problematic for the senior students, who need to build portfolios for both college and the AP exam.
According to Langston, the district's initial response to the infestation was not adequate. "The turning point for the rat problem was, and I'll just say it, after I filed a grievance," she said.
The grievance was filed for a contract violation regarding the health and safety of students and staff. According to the Environmental Protection Agency (EPA), rats have been known to carry 35 different diseases.
To start, Langston talked to the teacher's union representative Dino Petrocco, who then emailed the administration that she would be filing the complaint on September 25.
The day after the complaint was filed, an exterminator came to Langston's classroom with the custodian and told her where the rodents were nesting and how to get rid of them.
According to Lee, the administration was "trapping [rats] with the exterminator multiple times a week," and trying to identify where the rodents were gaining access to the building. So far, 5 rats have been removed by the exterminators.
Langston was frustrated with the slow response. "I think [administration] really didn't take it seriously. Nobody inspected the classroom, nobody came down here to discuss the issue of the rats. They filed work orders but I don't really know what those work orders looked like," said Langston. "[Principal John] Walker actually did come in here and see it, and he didn't do anything after he saw it."
Lee said the infestation was her top priority and shared the concern expressed by other teachers that "rodents could potentially be in the ceiling or in any place around them."
Madra had a 1st-hand encounter with 1 rat during class time. 1 of the entry points the exterminators were trying to identify turned out to be on the ceiling and behind a pillar in Madra's class in D9. That is where she believed a rat found crawling across a window ledge in the middle of class gained entry.
"All of a sudden, I see students pointing in this direction and I'm wondering 'what's going on?' and they said 'there was a rat!'" said Madra.
A few days before, Madra had left a bag of nuts on her desk for a snack. When she came back, something had chewed through the bag. "I had heard about rats in the D-wing so that's how I knew there was a rat here," she said.
Madra retreated with her students to the library while administration investigated.
After returning to her room the following period "they started screaming. They saw the rat going up the pillar," said Madra.
Madra told assistant principal Jon Drury about the situation. According to Madra, the rat was killed by Drury or a custodian using a gardening tool.
"It's just freaky," said Madra.
Now that the hole in ceiling has been sealed, Madra has stopped seeing the furry intruder.
However, students have reported other sighting, including in front of the library.
According to the very 1st sentence on the EPA's website for identifying rat infestations, "You may never see a rat or a mouse unless the infestation is severe."
Senior Andrea Pachas recounted 1 close encounter outside the entrance of the library a few weeks ago. She said she was standing near the steps when she noticed a former Spanish classmate trying to get her attention. Pachas realized to her horror that he was trying to tell her she was about to step on a rat. "I looked down and it was just a few inches from me. It was really disgusting and really disturbing, and I ran into the library," she said.
Pachas reported that other students surrounded the rat and threw food at it. "I don't think they killed it though," she said.
"I thought the school would address [the infestation] right away, but they didn't and now we have an even bigger problem," said Pachas.
The rodent may have been seeking food, of which there is plenty to be found piled up in compost bins. To restrict their access, the science department has had to consider removing the bins.
Lee reports that the most recent monitory of the infested areas suggest that the rats have either all been caught, or have moved on. But, she added, "just when you think you've gotten them all, sometimes there's still another 1 out there."