Grubbs Wins Week-Long Humiliation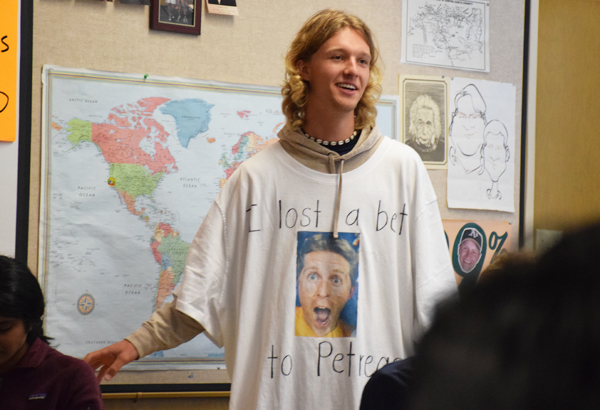 Senior Will Grubbs wore a shirt with math teacher Petro Petreas' face on it for the entire week of April 29.
Grubbs bet Petreas, his Calculus teacher, that he could get a zero on the annual AMC (American Mathematics Competition) test that was administered at the school in February. Since the test gives partial credit for questions that are left blank, Grubbs was tasked with strategically answering all 25 questions incorrectly in order to win the bet.
Grubbs unintentionally answered 3 questions correctly.
Grubbs and Petreas had agreed that the winner of the bet would design a shirt that the loser would have to wear for a week.
The front of the shirt designed by Petreas reads, "I lost a bet to Petreas" while the back contains a math problem captioned "Great problem," a nod to the inside joke between Petreas and his math classes.
"I like to make bets that revolve around embarrassment– any time anybody has my face on any part of their body, that's clearly embarrassing," said Petreas. "Making a shirt was actually Will's idea, but I thought it'd be funny if it were super big, too."
Grubbs became accustomed to his outfit throughout the 5 days. "I just got a lot of weird looks," said Grubbs. "I went up to Mr. Bostick and forgot I had the shirt on and he just started laughing and I'm like, 'What?' And then he's like, 'Your shirt,' like oh, yeah, I forgot. I was pretty tired of it by the end of the week, but it was fun."
The daily banter between Petreas and Grubbs that inspired the bet is enjoyed by others in the class as well. "It makes our calc class a lot more fun because they provide a lot of entertainment, both math-related and not," said junior Kimya Peyvan. "Watching them make the bet was so funny."
Grubbs has been Petreas' student for 2 years, and the pair have developed a unique bond. "He knows me very well so because of that, we can give each other crap a lot and we mess with each other a lot– I heckle him in class– but it's all out of love and respect," he said.
"One of us is tall, and one of us is short," Petreas added. "And one of our brains is very full, and the other one is not as full."