Backstage Pass to Holiday Tradition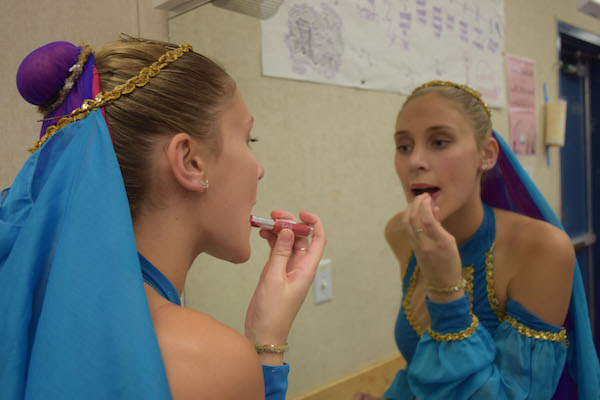 The California Academy of Performing Arts (CAPA) has been putting on their annual showcase of Tchaikovsky's Nutcracker for years. The show is regarded by many Lamorinda residents as a holiday season tradition, as it dominates a week of performances and includes over 100 dancers from ages 6-18. But what really goes on backstage?
Dozens of Campolindo students participate in the show each year, but very few realize how much time and hard work is put into the production.
Dancers spend upwards of 5 hours a day at rehearsals, working in schoolwork and meals backstage in the Campolindo Performing Arts Center (CPAC), to master up to 5 or 6 numbers per show. "Rehearsals and classes leading up to Nutcracker are extremely stressful and very long but in the end, they're so worth it 'cause we always pull off a good show," said senior Alex Corallo.
The backstage dressing room usually used by drama students is completely transformed. Dozens of huge, travel cases for makeup clutter the counter, the smell of Aquanet hairspray hangs in the air, tufts of fake hair pieces are strung up on mirrors, and a fortress of apparel racks fill the room, each stuffed with tutus, costumes, and extra tights.
"It's chaos backstage, but in a good way," said Miramonte junior Ava Fischler. "People are sewing their shoes or spraying hairspray everywhere. You have quick changes from a full tutu, pink tights, and pointe shoes to a multiple piece costume with tan tights instead of pink and intricate hair pieces that need to be completely secured to your head. And like 5 minutes to do it."
Miramonte senior Bridgette Shaffer offered a peek inside her dance bag, which contained 5 different pairs of dance shoes. But compared to a dancer's cumulative collection, 5 pairs of dance shoes is the norm.
Dancers trained in multiple disciplines need even more pairs than just pointe shoes: regular ballet shoes, jazz, tap, character shoes, and "dance paws" (which are for contemporary dance).
CAPA students spend just as much time in the studio as athletes do in the gym or on the field. Students who participate in most or all of the classes available to them at CAPA average around 15 hours a week of time spent in class, with some even attending classes for young dancers as teacher's assistants. "The level of training and intensity at CAPA definitely prepares us all really well for shows," said Corallo.
"Dance is an art. [It's] nothing short of your entire body and spirit," said senior Bella Nazzari.
Senior Paige Danforth said, "Many people have a misconception about the mental and physical strength that a dancer has to work for. We are challenged to look in the mirror every day and only see the flaws that we need to fix."
Despite the grueling hours, stress, and hard work that goes into a show, almost every dancer will tell you that what goes on backstage is 1 of their favorites parts about CAPA. "The vibe backstage is hard to top. Although we are focused, our favorite times are backstage, messing around and being our weird selves. We're a family," said Danforth.