Cleanliness Key after Kidney Transplant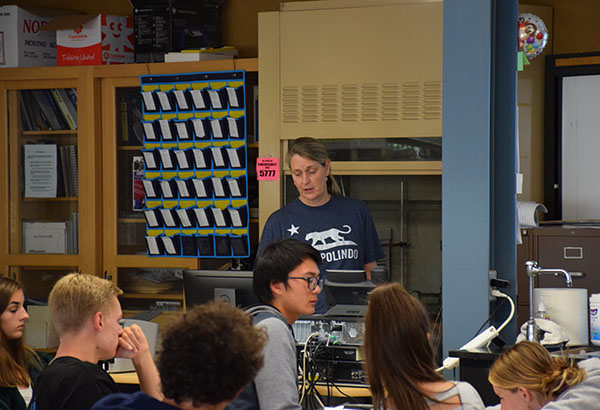 Chemistry teacher Rachel Eaton, who recently underwent a kidney transplant, has returned to Campolindo after a 6-month absence.
Eaton's lengthy leave began in March, shortly before her surgery in April. She is now back to teaching part-time and plans on returning to teaching full time in mid-October. For now, Eaton's 1st, 2nd and 3rd periods are still being instructed by chemistry substitute, Meryl Burton.
According to Eaton, she feels "like a new teacher" after such a long period of time away from the classroom.
The chemistry curriculum has been updated since Eaton's absence began.  In addition, Eaton is returning mid-way through the 1st quarter. "It just feels a little funny to be starting after everyone's been in school for a while," said Eaton. "I feel very disjointed."
In order to maintain her health, Eaton now has to take anti-rejection medications that suppress her immune system. Unfortunately, while the medication works to help her system accept the new kidney, it also makes Eaton more susceptible to illness.  She is especially vulnerable in a classroom environment.
To accommodate her special health needs, Eaton has installed several hand sanitizing stations around her classroom and has put down a line of yellow tape in front of her desk that she has asked her students not to cross. "Even this stapler, you know, if students are touching my stapler it is a great way to spread germs, so I've tried to set up student staplers vs teacher staplers," said Eaton. 
Although Eaton's students have been instructed on "need for cleanliness and having good hygiene health-wise," some of these new adjustments are difficult to remember, especially on a day when Eaton isn't present.
"I think students tend to forget, and start to be a lot less cautious when she's not there," said sophomore Connie Kim, who has chemistry with Burton during 1st period.
Sophomore Danielle Smith added that "the class definitely behaves better when she's there."
For now, Eaton's concerns are to get to know her students and make sure they don't fall behind in the curriculum. "And then for me, my biggest concern is just staying well, which is really important for me and also my kidney," she said.