Star Rises from Small Beginnings
Senior Cameron Cort has starred in Campo Night Live, Beauty and the Beast, and many other Campolindo drama productions. Cort has been in drama since freshman year.
"She's great and works her tail off," said drama teacher Jamie Donohoe.
Acccording to Cort, much of her inspiration has come from both current and former classmates in the drama program.
"I've been in Campo drama with her all 4 years but we've been in old plays together since 1st grade because we did musicals together over the summer," said Rachel Jackson.
Cort's drama hobby started long before high school. "When I was younger I did an after school program, but didn't do anything in middle school and decided to take drama freshman year and kept doing it because I really liked it," said Cort.
According to Donohoe, as a freshman Cort was introverted. Donohoe said that she "worked hard and got confidence."
Jackson said,"She is just very much herself as a person, she is different in the best way possible. She has her own humor, her own distinct personality, and she's just not afraid at all to say what she wants to say. Because of that people love her. I don't know a single person in drama who doesn't love her."
"Freshman year to now I have gotten better," said Cort. According to Donohoe, Cort has developed into a leader and her classmates respects her.
Jackson said, "it's been really fun because she used to play these quiet roles but then as we've gotten older she's been doing more fun stuff that reflects what she likes to do. She has slowly been able to do more characters that actually reflect her."
Donohoe said Cort is a team player and "gives everything she has." He added that Cort plays quirky characters.
Cort says that her style of acting "depends on character, theme, and show." Cort's favorite role was a guidance counselor in the fall production of Campo Night Live.
During the past school year, Jackson observed that Cort began to take on more main roles and become a greater presence onstage. Jackson said that "[Cort] pivoted a lot in high school" and "she has a personality where you just really want to get to know her. She seems quiet but the second you talk to her you realize that she is so funny and out there."
According to Cort she might join a drama club in college, but won't do it as her major. She'll try to do some drama as a hobby rather than a career. Cort said, "I do it for fun."
About the Writer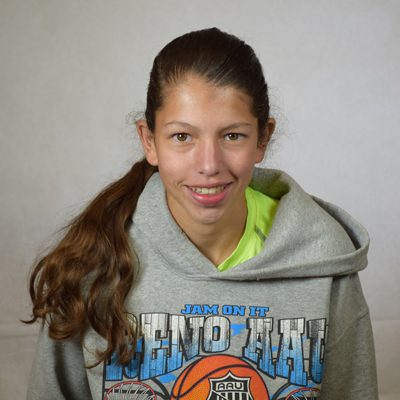 Elle Esquer, Staff Writer
Freshman Elle Esquer described the 3 sports she plays as " fun energizing and a great experience."

Unlike most 9th graders, whose schedules reflect...