Top Athletes Sign College Commitments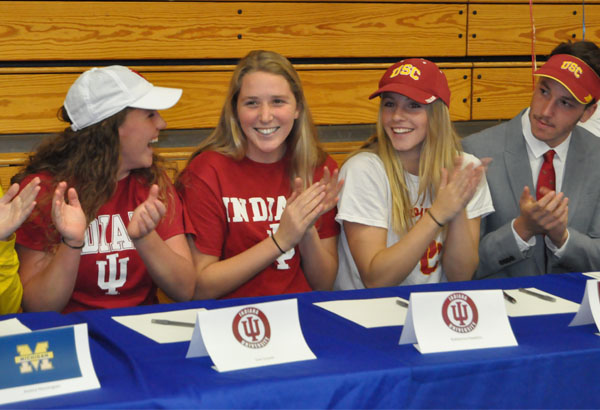 17 senior athletes signed letters of intent in the gym at lunch on November 14.
Water polo was most heavily represented at the event. From the boy's team, Garrett Dunn, Beck Jurasius, and Marcus Longton committed to Cal, Stanford, and USC, respectively. Their teammates Jack Larsen and Giorgio Alessandria will both be playing at UCLA.
From the girl's team, Jessica Henningsen committed to the University of Michigan, Christina Crum to USC, and Katherine Hawkins to Indiana University.
"It's been really relieving that I only had to apply to 1 school, and it's also really nice that it's also my dream school," said Hawkins, "Everything kind of worked out for me and that's really exciting."
Hawkins's teammate, Zoe Crouch, will be joining her on IU's polo team.
"[It's] super exciting," added Anne Hawkins, Katherine's mother. "It makes me so proud and happy that my daughter went to this school and was able to achieve a dream that she had."
Swimming was also well represented at the event. Swimmers Cristian Twyman, Alec Baker, and Sean Percin committed to Providence College, Bucknell, and Georgetown, respectively. Their teammates Lizzy Follmer, Paige Hanley, and Ashleen O'Brien committed to Northwestern, University of Iowa, and UC Davis, respectively.
Melissa Wright committed to row at Cal.
Soccer player Sydney Yuen represented the only "land sport" at the ceremony. "Being able to sign my letter with other athletes that I have grown up with and gone to school with since kindergarten is a moment I'll definitely always remember," said Yuen, who will be playing soccer at San Francisco State University.