Football Dominates Visiting Bronocs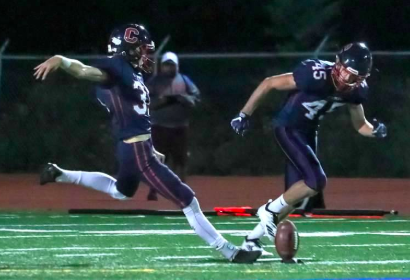 Varsity football beat Northgate 49-0 in the homecoming game on October 19.
The blowout victory offered an opportunity for many of the bench players to see action on the field. "…we put a lot of backups in and wanted to work them into the game, so our starters worked really hard to get them into the game," said senior Steffen Westphal.
According to Westphal, a key to the Cougar's success was shutting down the Bronco's running game, but the fact was the visitors had a tough time getting any type of offense going.
The team "worked on jamming the receivers, so that they couldn't get off the line," said sophomore Joey Schmit.
In spite of the gaudy final score, senior Paddo Buckley said the team picked up steam in the 2nd quarter"after a kind of slow start."
As a result of the lopsided score, the second half of the game was played with a running clock.
"At the end of the game, it was nice because we got backups like [senior] Siliq Hale in. He's been with us all season, and it was fun to see him get in, and then, we got our kicker, [senior] Riley Breul, to run a play which was pretty cool to see," said Westphal.
Schmit said, "The team did pretty much what I was predicting… I thought it would be a blowout, which it was."
Keeping everyone in the best shape for the rivalry game against Miramonte, said Buckley, was also a key part of the game. "We didn't want any injuries going into that because we did have some injuries after Alhambra going into Acalanes," he said.