Sophs Fortify Undersized Varsity Volleyball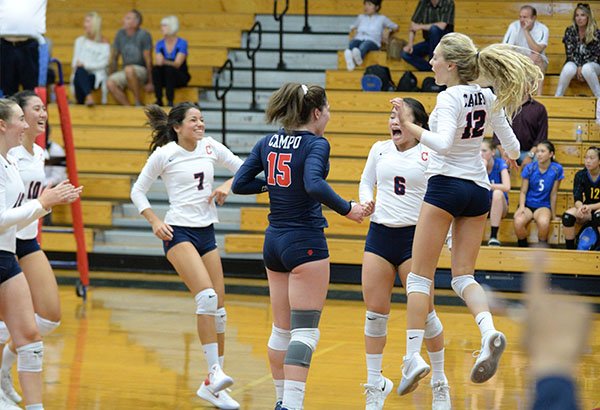 After losing 6 players to graduation, the 2018 varsity volleyball squad will depend on a large sophomore class to step up and fill the void.  Sophomores new to varsity this season are Nicole Kennedy, Olivia Knutson, Laura Studebaker, and Erin Thomas.
In spite of the youthful lineup, the squad has already beaten highly regarded Bishop O'Dowd.
Sophomore outside hitter Molly Mitchell said, "Everyone thought that because we lost all of the seniors from last year that we were going to be bad, but we have really stepped up and shown what we are capable of."
Senior captain Sarah Carrsaco noted that last year, "the upperclassmen leadership was much more noticeable because there were so many of them."
In addition to losing a group of vocal leaders, last year's graduates took a considerable height advantage with them. "We recognize that we are young and we aren't super tall, so we focus on defense, serve-receive, serving and other skills that we have more control over and playing bigger than we are," explained Carrasco.
The transition from the freshmen or varsity squad can be challenging.  Varsity play is faster, and some newcomers struggle to keep up with the pace and match the skill level of more experienced players. First-time varsity player Knutson said, "It's way more intense than I thought it would be."
The few varsity veterans that have returned are making a point to connect with their new teammates and take the opportunity to contribute to the legacy of the program seriously.
"We are trying to make it a really inclusive environment. I know for me, as a senior, in particular, it is really important that it isn't about this year for me. I want everyone to continue to enjoy Campolindo volleyball after I graduate and I want to create a competitive and fun environment," said Carasco
"We are going to do a lot of team bonding and we are always supportive of each other during practice, no matter what," added Mitchell.
Carasco also believes that the coaching staff has implemented a system that encourages communication and collaboration.