"Human Backboard" Wins League Title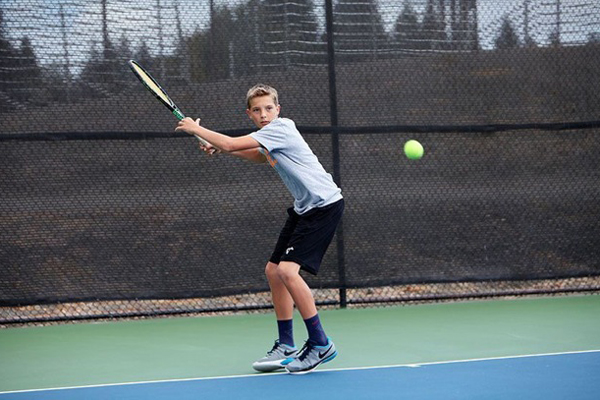 Sophomore Cal Hunter took 1st place in the varsity league championships for singles tennis on April 27 and 28.
In the league tournament, Hunter was undefeated.
"I was extremely proud of me and my team doing so well. It could have gone either way in a few [of the matches], but ultimately I pulled it out," Hunter said. "It was also a great way to cap off the season."
Hunter went on to compete in a national junior tournament in Anaheim from May 6-8 and went 2-2.
"It was a national level tournament with kids from all over the country. The best of them. There were 64 kids and everyone was really solid and had worked hard to get in that position. I did learn a lot from it, and there's always room to grow," Hunter said.
Competitors at the tournament ranged from 15 to 18 years old.
Hunter has been playing tennis for 8 years. "I just picked up a racket and it was fun. And you get to meet a lot of new people, and I loved competing and I just really enjoyed it," he said.
In his freshman year, Hunter worked his way up to the 3rd singles spot on the varsity team.
"[Last year] I had a pretty solid winning record, but I was only a freshman so it was nothing like this year," Hunter said.
"I think the best part about Cal is his footwork," said varsity head coach Alan Weissbaum.
Hunter's coach also appreciates the positive attitude and dedication his star athletes brings to the court. "After every point, I see him talking to himself. He always says positive things and encourages himself. He doesn't get himself down. If it were me I'd be getting angry at myself for missing the ball and screwing up, but he keeps a good attitude," said Weissbaum.
Hunter also has the respect of his varsity peers. Senior Jake Oxendine said, "He's a human backboard. Every single shot he returns and he's extremely consistent. He simply grinds people out because he doesn't make mistakes and the rallies go on for so long that his opponent inevitably makes a mistake. We have a joke that all of Cal's matches take like 2 hours while ours only take an hour because it takes him forever to win a point."
Hunter typically practices 3 hours every day, but on some weekends he trains for up to 6 hours. "I've had days where I'm with my friends and lose track of time and just play for hours. Some people could think that practicing so much is unbearable, but I love it. Also, on the weekends that I go to these tournaments, I play about 8 hours a day," he said.
Hunter wants to take his love for tennis to the next level and play the sport in college. "That's definitely my goal. It's really intriguing for me and just being a part of the team will be really fun," he said.