Franklin Throwing Strikes in First Season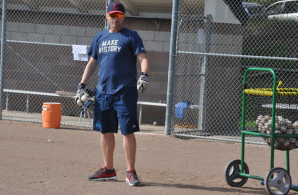 "What's the most important pitch in baseball? Who remembers?" varsity coach Wayne Franklin asked his players as they stood on the perfectly groomed baseball field grass at one of their early spring practice sessions.
"First pitch strikes!" his pitchers replied.
Frankin, a former Major League Baseball player and current owner of the semi pro franchise the Pittsburg Mettle, and now the new Campolindo coach, has begun his tenure the way he hopes his pitchers will begin with every batter they face: with a strike.
His practices are filled with the usual laughing and joking that can be found on baseball fields everywhere. It is a relaxed atmosphere, but it is also a place where learning skills is a priority.
Franklin replaced longtime coach Max Luckhurst, who stepped down from his post after the 2013-2014 season. "When I heard the news, I was shocked," said Franklin of Luckhursts resignation.
Franklin was one of several candidates who applied to take over the reigns of the perennial baseball powerhouse. "I went through the interview process and I got the job," Franklin said.
Franklin was selected in the 36th round of the 1996 amateur draft by the Los Angeles Dodgers, and made his Major League debut in 2000. He played in the big leagues for 6 years with 5 teams, including the Houston Astros, Milwaukee Brewers, New York Yankees, San Francisco Giants and the Atlanta Braves as a relief pitcher. Over those years, he compiled a total record of 14-16 with an earned run average of 5.54 and 216 strikeouts, according to BaseballReference.com
Before being drafted by the Dodgers, Franklin attended North East High School in Maryland and attended the University of Maryland.
In 2014, the Pacific Association of Professional Baseball Clubs offered Franklin the opportunity to purchase the Pittsburg Mettle team. "The league is a good way to give guys a first chance or second chance to get noticed or get on to a better league," Franklin explained.
Franklin has established several relationships with people who work for teams in the Atlantic League, a Minor League Baseball league located on the East Coast. He has sent several players from the Mettle to the East Coast to play.  Last year, the Mettle sent 3 players to Minor League teams.
Now, Franklin is focused on developing high school athletes and, hopefully, helping some make the leap into the college or professional ranks.
Franklin stressed the importance of this season for his older players, and praised the talented group he has inherited. "For the seniors, it's a whole new process, with it being their last year and they have to adapt to a new head coach. It's not an easy transition for anyone. The 4 seniors we do have [Ben Skinner, Conner McNally, Jake Rider and Adam Remotto] are very good players," he said.
Senior Ben Skinner appreciates Frankin's passion and dedication for the game. "I like him a lot. He played in the MLB, so he knows what he's talking about. He's very dedicated and willing to put in the extra time to help us win," the Harvard University bound outfielder said.
Senior Conner McNally is also impressed with his new coach. "He's a cool guy, very approachable. He has a certain way of playing the game, and I respect that," the University of Utah bound infielder, said.
Though the team has started the season under 500, for Skinner, that is nothing to worry about. "My freshman and sophomore years, we won NCS and started off like this, so historically, we've started slowly. We were in both the games we've lost and as long as we keep getting better every day, the wins will start coming." he said.
According to Skinner, Franklin's coaching style is different that those of his former coach. He said that Franklin focuses more on "small ball," like hit and run situations and bunting. Franklin stresses being productive offensively throughout the whole game, rather than relying on one big inning.
Franklin sees promise in his squad. "It's a good group of kids who want to play baseball," he said. "They're coachable and that's super important. They want to win for each other, and you couldn't ask for more."
"I want them to have a common goal. It's almost like owning a corporation." he said. "We have to have everyone working hard. I want to win every game and my goal is to win the NCS Championships."
The Cougars have an away game against St. Mary's of Albany on Saturday, March 28 at 4pm.