Football Stomps Mats on Halloween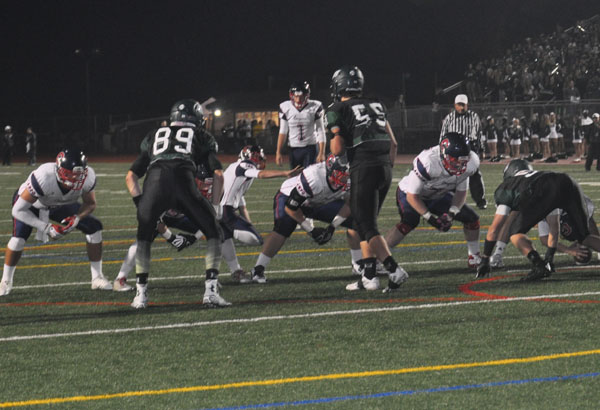 The football team defeated Miramonte 49-12 on Halloween. Played at Miramonte, the Matadors recognized their seniors before the game.
After the Cougars scored a touchdown on their first possession, Miramonte responded with a touchdown of their own.  However, they failed to convert the extra point.
Junior wide receiver Max Flower caught a touchdown pass to make it 14-6, then senior running back Nick Fadelli ran the ball 67 yards for a touchdown to push the Cougars score to 21. Flower also picked off the Matadors quarterback Ryan Anderson seconds before halftime on the Cougars' goal line.
Flowers said that the work his team put in over the week was important in stopping the Matador's offense. "We had our safeties flying around. We had our corners flying around. No one was really open," he said.
Macy also praised his team's defensive performance. "Our defense is not a big defense. We do a good job containing an opponent, but we're not a shut them down defense.  It was another effective night where we give up a score early and then we improve as the game goes along," he said.
At the half, the Cougars led 35-6.
Flowers also was impressed with the way offense performed throughout the game. "Our line did a pretty good job today, but there was a lot of pressure on our quarterback [senior Jack Stephens] and he was able to make some quick throws and get some receivers open down field which was helpful," he said.
Miramonte, who had won the toss and deferred to the second half, drove down the field on their opening possession, but turned over the ball on a fumble.
Senior tight end Tyler Petite caught a touchdown pass with 5 minutes left in the 3rd quarter to make the score 42-6 after the extra point.
Junior offensive and defensive lineman Sterling Strother also credited his offense as critical in the victory, but also added that there is still work to be done for his team. "We put up a lot of points, but we still have a long way to go to be able to go as far as we want to in the playoffs. We're going to keep practicing hard, and see how far it takes us," he said.
Macy added that the number of points his team put up was important in the victory, "We always have Fadelli. Fadelli every week gives us a running threat that we've never really had at Campo. I also think that in this game, we did stretch the field vertically with Max Flower and a couple big plays from Tyler Petite," he said.
With 2 minutes left in the 3rd quarter, the Cougars scored again, making it 49-6. 
However, Miramonte returned the ball deep into Campolindo territory on the ensuing kick off. Junior kicker Matt Blair made a touchdown saving tackle.
The Matadors put another touchdown on the board as the 3rd quarter ended. The Matadors attempted a 2-point conversion after the touchdown, but were unsuccessful. The Cougars led 49-12.
Strother said that playing on Halloween night was an interesting experience for his whole team. "It was definitely pretty fun, and it helped things get hyped up a little bit, and it was nice to be able to come out and quiet them down right off the bat," he said.
He added that he thought the Campolindo-Miramonte rivalry is intense. "It's just one of the best, one of the best rivalries in the Bay Area, and I hope we can maintain our dominance," he said.