American Kitchen Welcome Dining Addition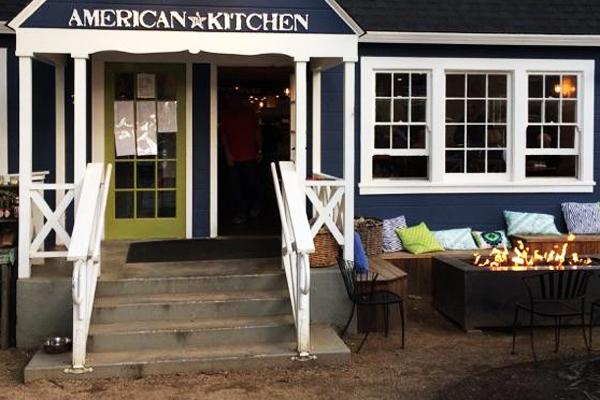 Lafayette's American Kitchen shines as La Fiesta Square's newest dining addition.
The downtown area, which for years has housed Chow and Mangia, has exploded into a dining destination with the addition of Roam artisan burgers, the Cooperage Grille, and nitrogen-fueled Smitten Ice Cream.
American Kitchen opened in 2014. It was founded by Alan Rivera and Lafayette resident, Victor Ivry, who is also the co-owner and founder of two Orinda favorites: traditional Table 24 and the spunky Mexican joint, Baracoa.
American Kitchen is located in a cozy, historical farmhouse, which has stood in Lafayette for about 80 years and previously housed a stuffy "Victorian tea room and gift parlor" by the name of Lisa's Tea Treasures.
Gone are the lace curtains (which had, obviously, seen better days) and fading exterior paint. American Kitchen has made brilliant use of the space, with a proud coat of slate blue paint and a welcoming patio area. The location has been completely revamped.
The patio boasts low as well as high-top stainless steel tables and a sleek, blazing fire pit. The fire pit area includes brightly colored pillows and blankets for chilly nights. There are also space heaters.
The inside of the restaurant is just as attractive as the patio. The walls are painted crisp white and showcase various patriotic images such as painted wood stars and an American flag collage. The tables include high-backed booths, tea candles and succulent plants.
The décor has stayed true to the location's farmhouse roots, with signs such as "Farm Fresh Milk" and wire lights. It's farmhouse meets Martha Stewart meets upper middle class Californian. In short, it is perfect for Lamorinda.
My family and I decided to try it out after we'd heard the raving reviews of neighbors and friends. Our expectations were high. Luckily, the food was great. Mashed potatoes will do that; they're great at people-pleasing.
I drank a particularly sour lemonade, and the server arrived with truffle French fries. I have had many types of French fries (In-N-Out, McDonald's, Roam, The Counter.) You name the restaurant, I've had the fries. If I were to say only one thing about American Kitchen it'd be that their truffle fries are, by far, the best French fries I've had to date. That's 15 years of French fries.
Our waiter was good-humored and approved of my choice of the chicken-under-a-brick entrée.
My dad, ever the nutritionist, chose the power salad.
The food arrived quickly and everyone enjoyed it. The chicken was juicy with good sauce. I added ketchup. The mashed potatoes were, well, mashed potatoes. I have yet to meet a mashed potato I haven't liked.
We skipped out on dessert, though the menu bragged of a Chipwitch ($5), fruit pie ($5.50), salted caramel pudding ($6), ice cream sundaes ($5), root beer floats ($5) and Affogato ($6).
Diablo Magazine calls American Kitchen "Nantucket-style dining," saying, along with other additions to the area, it's helping give Lafayette a bite in the food-scene rivalry with Berkeley.
There's French fries to kill for, décor to inspire a personal renovation, and staff you're happy to see again. Oh yeah, and did I mention mashed potatoes?
So whether you look to check out the beautifully renovated 1934 rustic farmhouse or are in the mood for some good old American comfort food, American Kitchen is the place to go.