Chamber Sings Success at Pops, Golden State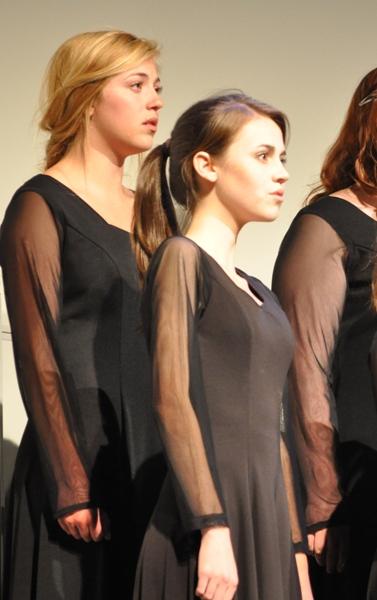 The concert and chamber choirs recently held their spring concert. This concert followed the chamber choir's participation and third-place ranking at the prestigious Golden State competition.
Choir teacher Mark Roberts said the "Pops concert," as the spring concert is traditionally called, consists of two halves; half of the songs are classical repertoire, and the other half are popular music, the kind of songs heard on the radio. Roberts said, "The upperclassman concert was great because for a large majority of them, in fact, fifty seniors, it was kind of their last hoorah."
The concert choir sang a Michael Jackson medley.  The chamber girls sang "Valerie" by Amy Winehouse The chamber boys sang "Fix You" by Coldplay.  The chamber boys and girls sang the song "Africa" together.
Senior Maddie Larson, a member of both the concert and chamber choirs, said, "I really liked doing the Michael Jackson medley with concert choir because we all got to goof around and dance."
Roberts said that most of the choirs involved in the spring concert had been preparing since January and February for some of the more difficult songs. "The preparation was just daily rehearsal in class; and in terms of the Pops music section, with the choreography and the dancing, there were student choreographers who came up with all of the choreography, and then they themselves taught it to the rest of the class," Roberts explained.
While pleased with the outcome of this year's concert, Roberts believes that some things may need to be tweaked for next year's Pops concert, adding, "You always want to see how you can improve, make it run more smoothly, but for the most part it is a pretty good model, but there may be come tweaks in the years to come."
The chamber choir also competed in the Golden State competition at Pacific Union High School in Angwin, California. The ensemble placed third at the competition, and Roberts said it is the best that Campolindo has done in the small choir division since 2006 when the choir received second place.
Roberts said the chamber choir prepared for Golden State by going through their daily rehearsal just as they would normally. They also worked on approaching the repertoire in new ways, such as discussing poetry, history, the period in which the piece was composed, the venue in which they were going perform and the effect of the venue on the overall performance. In addition, they went over in detail the emotional state the singers needed to be in to effectively communicate the message of the song.
Larson believes the choir's participation in a competition in Atlanta helped them to prepare by performing one time in front of judges before they did it at Golden State. She also added that she was glad the choir hard work and preparation paid off, "We had to be really focused in class, and it worked out for us because we got third."
Roberts said, "The students were brimming with anticipation, and they were really excited to share what they had worked so hard on." He also said, "I was remarkably pleased with their work; and it was just that a lot of people think music just sort of happens, and either you have talent or you don't, but there is a whole lot of work that has to go in. The students worked really hard, and their hard work came into fruition that day."