La Puma's Monthly Book Recommendation
In conjunction with the Campolindo Library's October "Banned Books" theme, La Puma will be recommending and reviewing Rainbow Boys by Alex Sanchez.
According to school librarian Sarah Morgan, reading banned books is important because "the way in which we share ideas and stories ought to be treated as a treasure. Books are one of the world's best treasures. We are fortunate to have a library filled with books at Campolindo and at our local Moraga library. Many of us have bookshelves filled with books at home. All of these pages are filled with ideas both real and imagined and it is no small feat that Americans have the freedom to read."
Rainbow Boys is the 1st of a trilogy of Young Adult (YA) books about a gay love triangle written in 2001. The book follows a closeted bisexual jock named Jason, a pretty average closeted gay kid named Kyle, and a flamboyant, somewhat intentionally stereotypical, gay rights activist named Nelson during their 1st semester of senior year.
It was banned from school libraries in Texas and Arkansas for the pro-gay themes and the sexual situations the characters found themselves in, as well as from schools in New York for its graphic sex scenes.
1 of the major highpoints of the book is the honesty it has about homosexuality and gay rights issues. Sanchez went out of his way to make the 3 title characters archetypical of the common experiences of LGBTQ+ teenagers, which I think is to the book's benefit since it allows pretty much any LGBTQ+ reader to relate to at least 1 of the title characters and understand the other 2. This means that readers of the book's intended audience (which are LGBTQ+ teens) are able to immerse themselves fully in the story.
However, it also has many negatives, including the nonchalant way it treats sex, seeing the only possible negative impact for the 3 being acquiring HIV. While this is not inherently a bad way of looking at it, I worry that any readers who have not been educated on the topic may act based upon the book's care-free approach.
Additionally, while the characters make good archetypes on their own, the characters' interactions are somewhat poorly written. Their conflicts can be illogical at times, and the way that the supporting cast acts is simply stupid at times. Their conflicts are essentially entirely driven by being rude or stupid to each other and never resolving issues. Even when the characters make up, they still never resolve their issues, which may be due to the author trying to set them up to resolve things in the sequels (which admittedly I haven't read).
Furthermore, the prose reads like most YA prose: an adult trying to use relaxed language except for where it might make the reader feel smart in order to try to appeal to kids. While I know many people can enjoy this style of prose, I'm just simply not a fan.
Overall, I rate Rainbow Boys a 6/10, simply because I think there isn't much to praise beyond the 3 main characters. However, I still recommend it to anyone with an interest in the LGBTQ+ community, since these 3 main characters do such a great job of being archetypes for the people one would encounter within this community. I think the book is worth reading for that reason alone. Beyond that, it does give a good insight into the struggles of LGBTQ+ teens, especially in places where they aren't accepted for who they are. That said, if graphic sex scenes make you uncomfortable, I would avoid this book.
Leave a Comment
Your donation will support the student journalists of Campolindo High School's The Claw. Your contribution will allow us to produce more issues and cover our annual website hosting costs.
About the Writer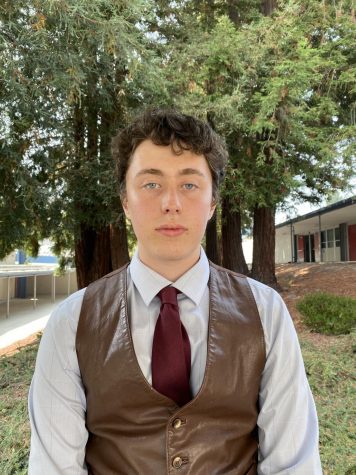 Daniel Thaler, Staff Writer
Freshman Daniel Thaler has loved reading and writing ever since he picked up the book White Fang by Jack London in 2nd grade. Thaler spends lots of his...