Surreal, Apocalyptic, and Political: Songs for 2020
Amidst the turmoil and division of our country, there is 1 thing that we can all agree on: 2020 has been an absolute rollercoaster. This year has been so chaotic that you can even buy stickers and t-shirts with a dumpster fire labeled "2020" on them. And as the saying goes, "Life imitates art" – so here is La Puma's playlist of songs that sum up the beautiful catastrophe that has been 2020:
10. "Don't Stand so Close to Me" by The Police. The chorus of this song is the perfect COVID-19 anthem. 6 feet at all times, please!
9. "Gimme Some Truth" by John Lennon. In this 1971 protest song, former Beatles member John Lennon conveys his disgust for hypocritical politicians disguising their true intentions with crowd-appeasing lies. I think after the 1st presidential debate, we're all desperate for some truth.
8. "Brain Stew" by Green Day. Maybe it's just me, but I think this song captures my state of being since online learning began – bloodshot eyes, horrible sleeping schedule, and bad posture from being hunched over a computer all day.
7. "Epiphany" by Taylor Swift. 1 highlight of 2020 for Swifties was the surprise release of Taylor Swift's experimental album Folklore. The album overall has a moody tone, and this haunting ballad does not disappoint. Starting off with a narrative inspired by her grandfather fighting in World War II, the 2nd verse provides stirring allusions to the pandemic, with heartbreaking lyrics referencing having to comfort loved ones from a distance. The repeated bridge acknowledges the immense pressure and intense schedules healthcare workers are battling.
6. "Life Inside" by Verzache. This track relates to feeling trapped in quarantine and longing for a break in the monotony of life inside. While the instrumental is upbeat, the lyrics discuss battling the depression and boredom from being unable to venture out and reconnect with old friends. Verszache also describes losing all track of time as the seemingly endless days of confinement blend together.
5. "Burn the House Down" by AJR. This political pop anthem by sibling band AJR chronicles the internal struggles of trying to find your voice while standing up against injustice, and the conflict many of us face when deciding when to intervene and speak out. The song is ultimately a rousing call to action and has even become the theme song for the youth-led anti-gun violence group March for Our Lives.
4. "Mr. Officer" by Tee Grizzly, Queen Naija, and the Detroit Youth Choir. Tee Grizzly's anthem inspired by the murder of George Floyd addresses police brutality and humanizes the victims and their families. The song's most powerful messages are the questions repeatedly asked in the chorus, asking the officer, "What if that was my brother? What if that was my dad…What if they were all I had?" These lyrics combined with the passionate vocals and accompaniment of a background choir tell an important narrative and fuel the Black Lives Matter movement's pursuit of racial justice.
3. "Only the Young" by Taylor Swift. This single was released alongside Swift's Netflix documentary Miss Americana, which revealed how she made the decision to speak out about politics and risk public backlash. Swift wrote the song with powerful lyrics encouraging her young audience to vote in the 2020 election. Verses hit on the repetitive frustration from lack of fairness and devastation felt as bad news continues to pour in, but emphasizes how it is up to young voters and activists to use their voices and create change.
2. "I Can't Breathe" by H.E.R. The weighted words H.E.R chose as the title for her single are a reference to the last words of Eric Garner and George Floyd before they were killed by excessive police force. "I can't breathe" has since become a chant among protestors in the Black Lives Matter movement as it reveals the shocking brutality shown by the police despite someone pleading for their life. H.E.R's track addresses this lack of empathy, as well as the hypocrisy of those who support law enforcement but criticize the protest movement. The song ends with a powerful beat-poetry style spoken word as H.E.R criticizes America's systemic racism and those who choose to ignore it, and demands that black voices be heard.
1. "It's the End of the World as We Know It (And I Feel Fine)" by R.E.M. Pandemic, chaotic politics, wildfires, a clock in New York's Times Square ticking down the number of days we have left until climate change becomes irreversible…need I say more?
View Comments (1)
Your donation will support the student journalists of Campolindo High School's The Claw. Your contribution will allow us to produce more issues and cover our annual website hosting costs.
About the Contributors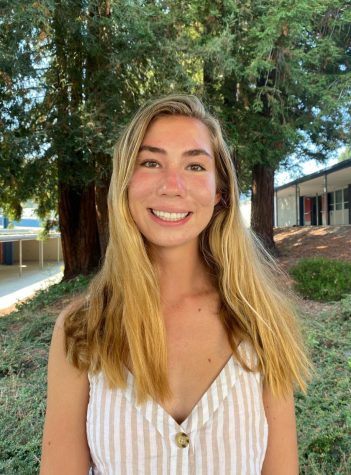 Gracie Woidat, News Editor
Senior Gracie Woidat has a passion for both working and caring for people and animals. She has found her calling by volunteering at the Lawrence Hall of...
Amanda Young, Editor-in-Chief
Amanda Young, a senior at Campolindo, enjoys raising awareness for social justice issues and being active in her community.

She is an intern with Stop...