Home-Made Masks Protect Public
The Broadway musical Annie popularized the phrase, "You're never fully dressed without a smile," but in the age of coronavirus, it seems that you are actually never fully dressed without a face mask.
Since wearing a face mask in public became law in Contra Costa County on April 17, trips to Safeway or CVS now include the process of hiding your smile.
However, as mask shortages continue in hospitals nationwide, nurses, doctors, and other medical staff have been forced to reuse medical grade masks for days on end. Those who are fighting this virus on the frontlines need protective equipment such as N-95 respirators, as they are amongst the most vulnerable to becoming infected with the coronavirus.
Due to these apocalyptic circumstances, hospital-approved N-95 respirators and other medical grade masks are not recommended for anyone other than medical professionals. These masks, which are becoming increasingly difficult to come by, must be reserved for the healthcare professionals working tirelessly to keep us safe from this devastating virus.
Homemade masks can be a great option for protecting yourself when making essential trips outside the house. While fabric face masks are not always as effective as CDC-approved masks, wearing any sort of mask helps prevent transmission of the virus in places where social-distancing is difficult, like grocery stores and pharmacies.
Here's 1 simple way to make a no-sew protective face mask using only a few household materials:
No-Sew Fabric Face Mask
Materials:
Bandana or other tightly woven, cotton fabric cut to about 20×20 inches
Two rubber bands, ribbon, or shoelace
Paperclip or twist-tie (optional)
Coffee filter (optional)
1. Lay out your bandana or fabric on a flat surface.
2. Place the coffee filter in the center of the square of fabric (optional).
2. Fold the top and bottom edges in towards the center to meet.
3. Place a flattened paper clip or twist-tie in the center of the top fold (optional).
4. Fold the top edge towards the center to conceal the metal piece.
5. Fold the bottom edge towards the center, overlapping the top fold to achieve desired width.
6. Loop the rubber bands on either side of the folded rectangle. If using a ribbon or shoelace, tie on either side of the rectangle.
7. Fold the sides in, creating a compact rectangle with the rubber bands on either side.
8. Loop the rubber bands around your ears or tie the ribbons around your head, securing the folded fabric mask to your face. If used, position the metal piece so that it sits on the bridge of your nose and bend it to secure the fabric closer to your nose.
9. Adjust as necessary and ensure that the mask covers your nose and mouth entirely.
Notes: If the face mask feels too large for the face, try overlapping the folds to create a more compact mask. For a mask that feels too thick, start with a smaller square of fabric so that there are fewer overlaps, resulting in a thinner, more breathable mask.
It's important to remember that face coverings must be worn when leaving the house for essential tasks. They will help prevent the spread of the virus when proper social-distancing is not possible, protecting our families, those most susceptible to the virus, and our community.
Leave a Comment
Your donation will support the student journalists of Campolindo High School's The Claw. Your contribution will allow us to produce more issues and cover our annual website hosting costs.
About the Writer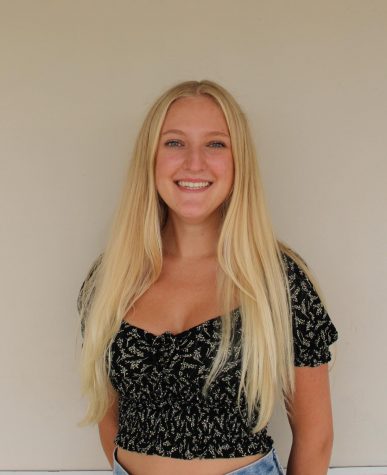 Jensen Rasmussen, Editor-in-Chief
Senior Jensen Rasmussen has been passionate about ballet since a young age, training and cultivating her love of dance throughout her high school career....