Burnett Drives to State Tourney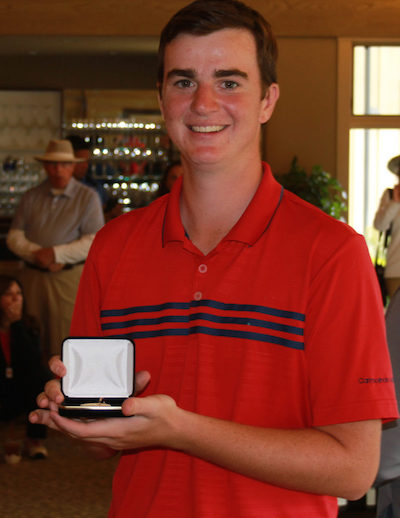 Sophomore golfer Ryan Burnett won first place and received medalist honors in the Northern California Golf Association Championships in Salinas on May 23. Burnett will advance to the State Championships on June 1 at San Gabriel Country Club in Southern California.
Burnett is 1 of 9 individuals to advance to state. "It should be really fun," said Burnett. "There's a lot of great players from around the state, so it will be a great time down there."
Burnett was accompanied by his teammates in the NorCal tournament. 0″We had 3 seniors that really improved. And then Jay Thomas, who is a sophomore, really improved during the off-season and really helped us make our way to NorCal," said Burnett.
Thomas was equally complementary of Burnett: "It's very impressive.  He's had a really good season. He's a really solid player and he definitely deserves it0," he said.
Thomas added that Burnett's personality makes him a great golf player. "He has a good work ethic and he works hard0," said Thomas.
Burnett has been playing golf since he was 10. Now he spends extra time practicing at Roundhill Country Club in Alamo when he is not with his team and his coaches, Steve Robinson and Gary O'Neill, at Moraga Country Club.
As a freshman last year, Burnett was the highest scorer on his team at the NCS Tournament of Champions, leading the team to 5th place.
At this year's NorCal Championships, the team placed 6th overall. Burnett scored a 4-under par 68, just beating rival Josh McCarthy from De La Salle with 6 birdies.
Burnett has improved significantly. Thomas said, "He's definitely been a big contributor. He's helped us win a lot of matches, and especially helped us take 2nd in NCS."
Burnett credits his team for their support. "Making it through NCS to go to NorCal is tough without a team because if you have 1 bad round, you can get stuck and not move on, so I think my team made it a lot easier on me to be able to move on to state as an individual," explained Burnett.