Leadership Rewards Faculty during Special Week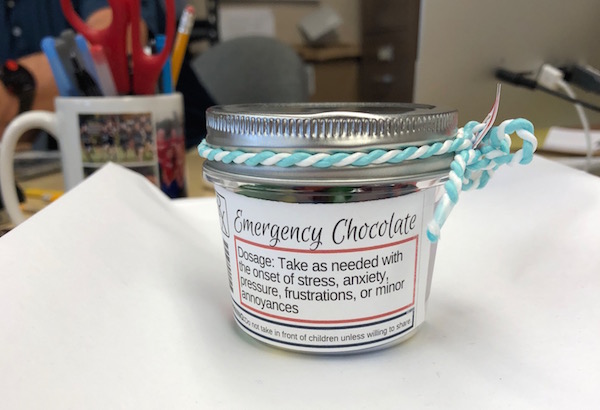 The Leadership class held sponsored events and provided gifts to celebrate Teacher and Staff Appreciation week from May 6-10.
On Monday, the sophomore class kicked off the week by passing out lollipops to teachers along with handwritten notes.
Tuesday boasted a freshman class-sponsored "wishing well" in the faculty room where teachers could make requests to be fulfilled by the Leadership class. Teachers Molly Kerr, Dagmar Ortman, Michelle Alessandria, and Katrina Halle all had their wish of hot coffee in the morning fulfilled by the freshman.
"The leadership class did such a great job making all of the teachers and staff feel appreciated," said Alessandria. "I was really excited to have my wish granted, the morning coffee was really thoughtful."
A raffle was hosted by leadership teacher Lindsay Webb-Peploe and her students on Wednesday night. Prizes included a sandwich from Bianca's and a car wash. Winners included teachers Ray Albiento, Nita Madra, and Matthew Bostick.
Additionally, on Wednesday, students were invited to make cards for teachers during lunch. "There was a great turnout," said Webb-Peploe, with over 30 cards made for teachers.
On Thursday morning, the senior class distributed Morucci's breakfast burritos and sandwiches to teachers. "I'm a big food guy, so Thursday was definitely my favorite day. The sandwiches were great," said counselor Duane Magno.
That Thursday night, the leadership class also hosted a daycare for 2 hours while teachers with young students could go out with their spouses or have a night to themselves.
The week ended on a sweet note, as each staff member's box was stuffed with mason jars of candy by the junior class.
"Our teachers do a lot for us," said senior and leadership student Cal Hunter. "It's important that we show them how much they mean to us and celebrate all that they do."