Frosh Rule Ping-Pong Tourney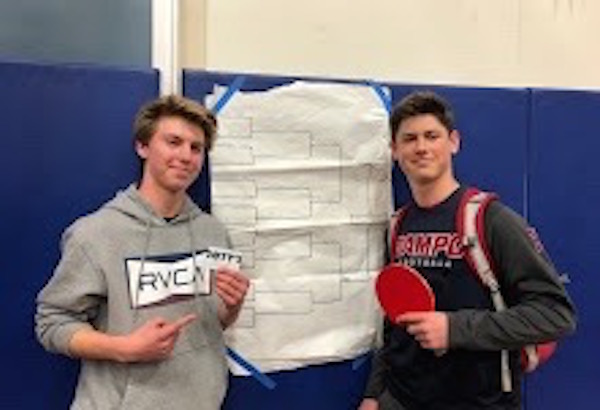 Freshmen dominated the annual lunch-time ping pong tournament, co-hosted by the Ping Pong Club and Leadership. The competition wrapped up on February 22 with a final match that saw the freshmen squad of Michael Coane and Connor Fritch beat fellow freshmen Collin Krznaric and Max Rittmann, 21-18.
Ping Pong Club members consider the tradition "a highlight of the season," according to senior and club president Garrett Dunn.
"Garrett really runs it all," said ASB president Katie Clare. "[The leadership class] technically puts it on, but Garrett is in charge."
The tournament began on February 11 with 16 teams. Dunn participated in this years' tournament alongside teammate senior Lucas Allen, but they were eliminated in the semi-finals by freshman duo Coane and Fritch.
Junior Brent Avenell and sophomore Owen Lekki were defeated by Krznaric and Rittmann in the semi-finals.
"It's a really fun lunchtime activity," said senior Sydney Yuen, whose team was eliminated in the 1st round. "Even if you're not playing, it's fun watching teams play and get super into it, and Garrett announcing the play-by-play."
The tournament winners received a gift certificate to Gott's Roadside restaurant.