Town Council Honors AcaDeca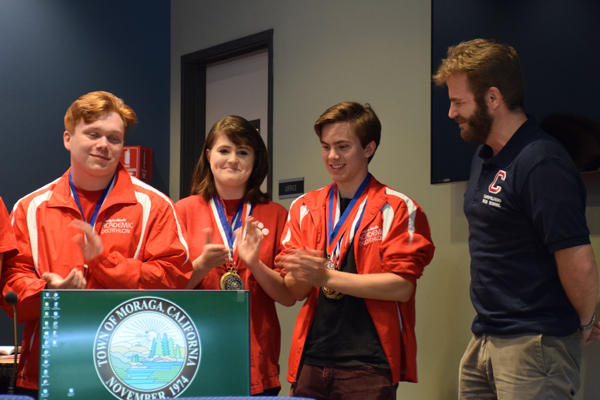 After setting the county record for the most consecutive tournament wins and advancing to the state championships in Sacramento, the Academic Decathlon team was honored by the Town of Moraga on May 10.
At the recent town council meeting, Teresa Onoda read the proclamation honoring the team, mentioning their accomplishments and recognizing the members that went on to State championships.
This was the first time that the Academic Decathlon team had been honored by the town council, though AcaDeca has made it to State and Nationals before.
According to Coach Paul Verbanszky, the team did not expect to be recognized.
Senior team captain Zoe Portnoff said,"I felt honored that [Onoda] called my name and congratulated me personally for what I had done. I didn't expect any of this recognition, so it was really nice."
Each team member was presented a certificate, and shook hands with and council members.  The team and the council posed for a picture as well.
"These guys are all really smart, and I respect them all for what they do, because I know I probably could not have done that," said council member Jeanette Fritzky.
Onoda officially proclaimed May 10 to be "Campolindo High School Academic Decathlon Team Day" in the Moraga.
Junior team member Sagnik Bhattacharya joked, "Now we can brag about having our own day every time Acalanes comes to our school for the district tournaments."
"I was very excited to get that recognition because not often to academics get recognized at the same level as sports," Verbansky said.