Guest Musicians Highlight Concert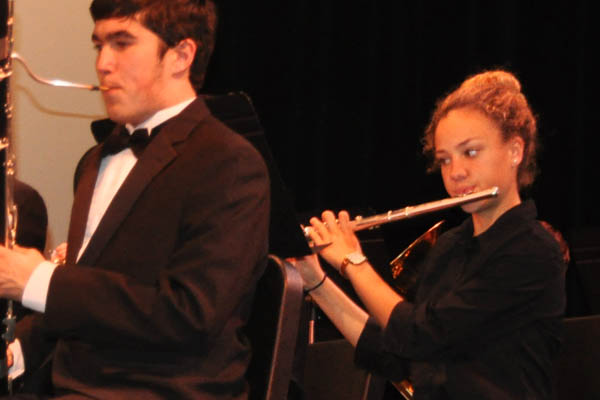 The concert and symphonic bands performed in the CPAC from 7:30 to 8:30pm on Thursday, February 26 as part of the music program's winter concert series.
The performance was directed by instrumental music instructor Johnny Johnson and featured 2 professional guest performers, flutist Courtney Wise and oboist John Spears.
Sophomore Simone Epperson, who plays the clarinet, explained the musical selections. "We played 'Symphonic Concert March,' which was a really hard piece, 'The Thunder,' which was fun, 'Morso Symphonique,' 'Autumn Soliloquy' and 'The Shamnad.' We got the music before Thanksgiving break, around that time, and we've been rehearsing since," she said.
Sophomore flutist Lydia Hancock said, "I think this concert was different than most of our concerts because we had the pieces for so long, but we had so many pieces given to us at one time that we were pretty overwhelmed."
Epperson mentioned that while playing in the school band is exciting in its own right, being able to play with guest performers was special. She said, "'Playing Autumn Soliloquy' was my favorite because we had a guest performer, who played oboe and was really good. It sounded great with the oboist and then us; the combination matched."
Hancock agreed that 'Autumn Soliloquy 'was a highlight. "It had one of my idols, John Spears," she said.
Epperson added, "Courtney was great too. She went to College Park and actually performed the same piece that she played for us in high school. She had already played it in high school which was really cool; she's so good."
Both Epperson and Hancock agreed that the practice required for band is challenging. Epperson said, "Each day can be really hard when you have extracurricular activities, but I'd say each day an hour or two for practice. Our rehearsals were kind of shaky before and that whole week we were just really nervous leading up to the concert, but I think we did way better than we thought we would."
While believing that she could've practiced more, Hancock still called the concert a success. "I think Mr. Johnson knew how we were going into it and that it actually exceeded his expectations," she said.
Epperson said, "Sometimes I misread notes, like think it's a B and I'll play a B flat. Also counting, sometimes I'll come in at the wrong time. I'll come in a couple seconds early, which can ruin the whole thing. That's something I could work on, but overall, I think it went well. I know Mr. Johnson is really proud."