Mendonca Addresses Citizens, Recognizes Community Volunteers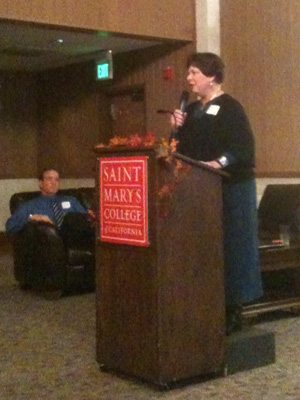 At the 2011 State-of-the-Town Address, Mayor Karen Mendonca delivered unto a gathering of devoted Moraga citizens at the St. Mary's College Soda Center a review of Moraga's successes and challenges, and later conducted a recognition of dedicated town volunteers.
The evening commenced with a social food and beverage reception. Then, surrounded by town and county officials, Mendonca reviewed five main goals for Moraga in 2011, which included investing in infrastructure, revitalizing economic development, creating fiscal responsibility, enhancing communication with the community, and improving existing partnerships.
Mendonca also commended Moraga for its place as the sixth best community to live and learn in the nation, according to a Forbes study. She celebrated many of Moraga's growing traditions, such as the Pear and Wine Festival, Cinco de Mayo Celebration, the first annual Jazz festival, the many events hosted by the New Rheem Theatre, Moraga's Triathalon, and summer concerts at the Commons.
At the suggestion of town clerk Marty McInturf, a Committee Volunteer Recognition ceremony recognizing the volunteers who contribute to Moraga's success was held after Mendonca's address.  Mendonca paid tribute to  committee members from the Moraga Youth Involvement Committee, the Moraga Economic Development Team, the Design Review Board, and more.  Certificates of Appreciation were awarded to past committee members as Mendonca lauded their accomplishments.
Town Council member Hal Harphum emphasized the importance of Moraga's volunteers as non-paid essentials to who contribute in countless ways to the town's success.  Mendonca reiterated Harphums's view:  "Put simply, the Town of Moraga would not be the Town of Moraga without its incredible volunteers!"