Choir Warms to Roberts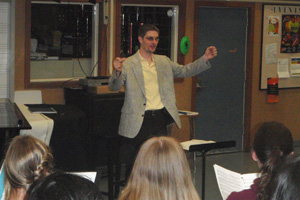 After the departure of long-time choir director Stacey Kikkawa, finding someone to fill her shoes seemed impossible. As it turns out, all Campo had to do was turn to their own alumni. New choir director and Campo grad Mark Roberts is settling into his place at the helm of the choir program and is excited for the oppurtunities ahead.
"I want students to feel pride and ownership in what they're doing," said Roberts, who is teaching all levels of choir.  He previously taught in Southern California and Tennessee at multiple schools, including the University of Tennessee.
According to chamber student Ben Thomas, Roberts encourages the students to be independent learners.  He said Roberts "really likes getting close with his students.  He really interacts with us."
The chamber choir will be taking trips this year, a new addition to the curriculum.
Still, the change in leadership has been noticeable for many choir students. Chamber student Maddie Larson said, "Everyone liked Miss Kikawa. She was good at laying down the law."
Larson's classmate, Adrienne Bengtsson, noted that Roberts is more interactive than Miss Kikawwa. She said, "You still need to show him respect, but it's a little more lighthearted and fun."
Robert's shares his passion for music with his students.  He said, "I just want us to continue to improve every year and enjoy performances as well as practice."
Kikawwa left after last school year to pursue her Masters degree in Performance in  Conducting at CSU Fullerton.