Podcasts Provide Public Platform for Student Opinions
While video sharing and streaming platforms like TikTok and Netflix continue to dominate the entertainment scene, there has simultaneously been a rise in audio-only content in the form of podcasts. During the COVID-19 pandemic, some students opted to create podcasts of their own.
According to digital marketing agency Brandastic, there have been over 700,000 podcasts created since 2005, providing for 30 million episodes of content. Included in these figures are the podcasts AP Tidbits, founded by seniors Alyssa Levy, Emma Torres, and Katie Stephens; 2AM Takeout, founded by senior Mindy Luo and 3 of her friends (Katelyn Ma, Yumi Tateno, Angel Ye) from a pre-college summer program; and Society360, founded by 6 Bay Area high school students, including juniors April Mao and Cathy Kenderski.
The extra time at home due to the pandemic led to the creation of the podcasts. Levy said, "We were bored during coronavirus and Emma's dad was in a band so he has all the right equipment," and they then decided to "record for fun" and use their experience editing to create their podcast.
"Corona made a lot of people bored [so they] became interested in listening to podcasts or creating their own podcast," said Mao. "It's become popular amongst teens in making podcasts because we can get our voices heard."
"They're really fun to record so we just ended up continuing to record episodes," said Levy. According to the podcast's Instagram, @aptidbits, the podcast features "an inside scoop on how to navigate the twists and turns of high school – from the inside out!"
"We usually have a Google Doc with random things [and] prompts to talk about for the week – like 1 of us will write 'favorite movies and why' – and then we talk about that and end up discussing something totally different and fills up all the time. Or one of us will have a funny anecdote and want to hear the others' opinions," Levy said.
The podcasts have reached audiences beyond the Lamorinda community. "We've gotten a few random listeners slide into our DMs on the Instagram account and say they like [AP Tidbits], and we have I think 1 listener in New Zealand and 1 more in Ireland which is crazy," said Levy.
2AM Takeout, which markets itself as a podcast where the speakers discuss "social media, politics, and modern social justice issues under the lens of their intersectional identities as female, Asian-American, and GenZ," has also experienced this. Its infographic Instagram posts consistently reach over 1,000 likes, with its top one (a post about the problems with clothing brand Brandy Melville) garnering 117,000 likes.
"When we 1st established the account, it was crazy when we hit over 100 likes. When we hit over 1k likes…I remember freaking out. I screen-recorded it," said Ma. "When Mindy posted her Brandy [Melville] graphic, that broke every single expectation that we ever had."
Society360 also aims to shed light on important contemporary issues. According to Mao, the "goal is to spread awareness but also positivity during this time. We created it because we just saw so much depressing news that we thought it would be nice to hear about good news for once."
In addition to providing a platform for podcasters to share their opinions, the podcasts have served as a bonding opportunity. For Society360, the students hail from different high schools around the Bay Area – they met through debate tournaments – so the podcast allowed them to connect. For 2AM Takeout, the founders are from different parts of the continent (the Bay Area, Texas, and Canada), so the chance to work on the podcast has "deepened [their] connection," said Ye.
"After RISD [the pre-college program at which they met], we didn't talk to each other for a long time, but then we FaceTimed and reconnected and it was so good – there was so much serotonin in the air – and after the podcast started, we FaceTimed a lot more and talked to each other a lot more," Ye said.
Podcasts present several unique opportunities that are not afforded by videos. According to Levy, "Podcasts allow some sense of privacy if we were to 'blow up' – listeners don't necessarily know what we look like – and it is something that is honestly a fun trend. Podcasts can also be listened to more easily (in the car, while doing homework, etc.) and are generally less distracting than Youtube videos or other media formats."
Luo noted that podcasts are "more of a conversation," and "when you do Youtube videos, there's an expectation to be super flashy, so you can't keep your audience for that long. There's so many more expectations but with a podcast, you're forced to focus on someone as they talk."
"Podcasts reach out to different people," said Mao. "Podcasts are also a cool thing to just have as like background music or something. They're definitely very accessible."
AP Tidbits is available on Spotify, Apple Podcasts, Google Podcasts, and Anchor. 2AM Takeout is available on Spotify, Apple Podcasts, Listen Note, and Buzzsprout. Society360 is available on Spotify, Apple Podcasts, Google Podcasts, and iHeartRadio.
Leave a Comment
Your donation will support the student journalists of Campolindo High School's The Claw. Your contribution will allow us to produce more issues and cover our annual website hosting costs.
About the Contributors
Amanda Young, Editor-in-Chief
Amanda Young, a senior at Campolindo, enjoys raising awareness for social justice issues and being active in her community.

She is an intern with Stop...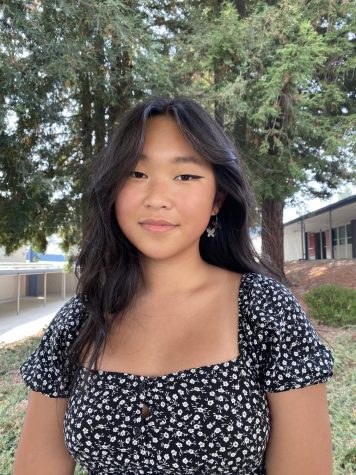 Mindy Luo, Visual Media Editor
Senior Mindy Luo has spent her high school career utilizing her artistic skills as a vehicle for her commitment to various social justice movements.

Luo...