JV Tennis Completes Spirited Season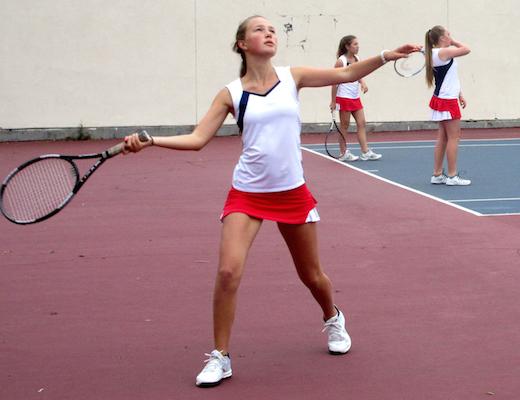 Junior Varsity girls' tennis concluded their 8-week season on October 27 with a win over Los Lomas.
Head coach Margot Hopper said, "We've had a good season. We dominate in our league so we've had to go outside and get some competitive matches from outside our league and it been really beneficial with helping people figure out what they might need to work on."
Hopper enjoyed this season of tennis. "I think that we're a well balanced team, pretty competitive and a lot of potential for improvement in everybody's game, a lot of good mechanics and lot of healthy competitive spirit," she said.
A coach of 11 years, Hopper was happy with the character of this year's squad. "I love all of [the players], and the fact we have freshman, sophomores, and juniors but all get along and are very supportive of each other," she said.
Some of that chemistry was also attributed by the players to the coaching staff. Claire Stewart said, " I love the coaches and I think they help me improve a lot."
"Melanie, Jimmy, and Allen have all taught us a lot. I'm glad that I joined because I actually wasn't going to do it but my friend Marla Wong convinced me to and ever since I've been playing," said Junior captain Maria Wong.
Next year, Wong hopes to move up to the varsity team. "I'll miss the coaches and the more relaxed vibe but I'm also excited to join a more competitive team," she said.
Hopper congratulated her team on this year's season. "Overall we have a lot to be proud of," she said.