Margerum out for Season; Soccer Stays on Top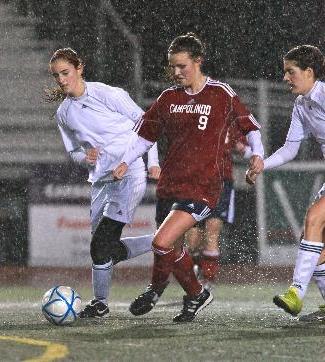 Senior Val Margerum, a starter for Campolindo girl's varsity soccer the last two years, will be out the entire 2012 season due to a tear in her Anterior Cruciate Ligament. Margerum sustained this injury during club soccer in the fall.  Her rehabilitation schedule has the star working towards a return to competitive action in July.
Freshman Bridget Coleman said, "It's a tough loss because Val is such a good player." Although Margerum is injured, Coleman said the veteran continues to help the team at practice by giving them advice and staying positive.
Margerum still tries to contribute to the team as a motivator. She said the team is doing well for the number of new players it has, and thinks that the team works well together.
Last year, Margerum contributed with 3 goals and 22 steals during the season. She was a main midfielder and forward.
Since her injury, there has been a gap to fill, but senior co-captain Kelly Hilk said many have stepped up, including junior Shannon Stabler. Hilk said Stabler "has done a good job."
Currently, the girls have a record of six wins, one loss and two ties. In league play they have a record of four wins and one tie, tops in the DFAL.
The boys' varsity team lost several key seniors last year.  Harlan Raine, with seven goals, and senior Nick Palano, with six goals already this season, have helped to lead the team to a good start.
The boys' overall record is eleven wins, two losses, and one tie. In league play they have three wins, one loss, and one tie.