College and Career Center Hosts Senior Talk
A senior talk took place during Academy in the College and Career Center on January 27. Seniors Tessa Wilson, Alvaro Ledezma, Kian Kashayar, and Bella Montero were involved. This event was also facilitated by counselor Joan Batcheller.
As the future is fast approaching, plans for this future are growing. Finding guidance in a supportive school environment helps students develop these plans. Seniors, who have experienced the stresses and processes of applying to colleges, used the Academy to offer advice for juniors to navigate that world.
Batcheller said that she wanted the talk to be student-led. "I'm not going to lead it," Batcheller stated before, "juniors are going to ask questions of the seniors."
However because "sometimes no one will ask questions," according to Batcheller, she was there just to "prompt some questions and say something like, 'okay seniors, what do you think is useful information that juniors can get from your experience in the application process.' Then they might share some of their insights."
Overall, the planned layout was to have a conversation based Academy giving juniors the opportunity to seek guidance and advice from others who have gone through the same processes they currently are.
Some goals that Batcheller had in mind were "to get juniors engaged in the process [of college applications] so they know that I'm a resource so they can see that there's things that can be done now." This was important to her because "a lot of kids procrastinate by nature and so they may not [engage]."
This talk could benefit these procrastinating students and help them understand the importance of beginning college planning earlier rather than later. "Seniors will say if you come to some academies, learn how to do certain things, if you understand finances before you do your applications, if you do more work as a junior over the summer or before your senior year, you'll realize you could have very little stress your senior year if you put in work along the way," Batcheller said.
Connecting with these juniors to ensure that they don't feel alone during these anxious times is also a priority. "In general it's more just to be a resource so kids can hear from other kids what their experience authentically was," said Batcheller.
All four of the senior panelists have attended Campo for their entire highschool career. They shared their stories and advice about the college admission application process. These seniors focused their talk on essay writing and decreasing anxiety levels.
Montero said to "be vulnerable in your writing, colleges want to know who you are." She added, "have multiple people edit your essay to help you with grammar and sentence structure so you can get the best feedback possible."
According to Wilson it is important to "keep the essays positive, make sure you write about something with a positive outcome."
During all the endless grinding out of essays remember that "they help you learn something about yourself, it's an introspective process, you can ask yourself what's been impactful to me. Enjoy that" according to Ledezma.
The seniors also shared that they recommend starting the application process as soon as possible in order to reduce stress during their academic year. For instance, Ledezma said "I wish[ed I had] started earlier, I started my junior year and came to the College and Career Center academies, came during free seventh period for help…and met with Ms. Batcheller."
When applying to colleges, it is necessary to keep in mind safety schools, match schools, and not just reach schools.
"Find two to three safety schools you really like that have programs that are catered to you…it helps a lot with the stress," said Ledezma.
Also "early deadlines are important, get the finalized list [the list of colleges you want to go to] before those" Wilson said. These finalized lists help maintain organization and keep track of the multiple schools students are attempting to attend.
"Take into account affordability" Wilson added. She shared with the juniors that while this can be a burden, it is still a reality for many students.
Many juniors found that their questions were effectively answered during the senior's sharing. Overall, the juniors came away feeling more prepared for their upcoming college experiences. "I learned about the letters of recommendations and how to approach a teacher and ask them about it," said junior Mia Lawrence. "I thought it was really helpful because it gave me some tips on what I should and shouldn't be doing during the college applications later during the summer and next fall," she added.
Leave a Comment
Your donation will support the student journalists of Campolindo High School's The Claw. Your contribution will allow us to produce more issues and cover our annual website hosting costs.
About the Writer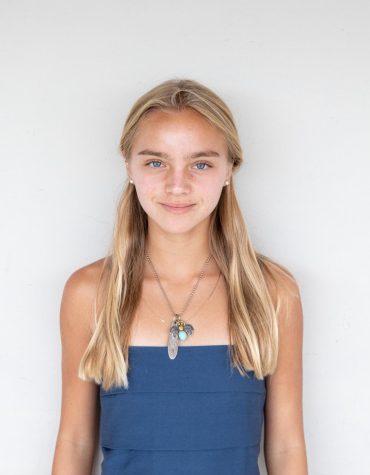 Anya Houston (she/her), Staff
Freshman Anya Houston has always had a special interest towards English. Whether in school or in her free time, she finds that she's always enjoyed writing...