SAGA Organizes Student Walkout for "Don't Say Gay" Laws
In protest of the recent "Don't Say Gay" laws passed in several U.S. states (namely, Texas, Georgia, and Florida), Campo's Sexuality And Gender Alliance (SAGA) organized a walkout on March 25. To show their support, dozens of students walked out of their 5th period classes and met in the quad in an organized act of solidarity and protest.
Nicknamed "Don't Say Gay" bills by opponents, the legislation prohibits any discussion or mention of LGBTQ+ identity in classroom curriculum, and allows parents to sue teachers and faculty members for violations. The bill also requires school mental health counselors, such as the counselors in Campo's Wellness Center, to out queer students to their parents.
The walkout was inspired by that of Acalanes' Queer Student Alliance (QSA), which occurred on March 11, protesting the same legislation. These walkouts and student protests have been occurring all across the United States, led by allies and queer students alike. Miramonte's Gay Straight Alliance (GSA) organized their walkout to occur at the same time as the 1 at Campo.
SAGA president senior Aeryn Armstrong-Azhar and co-vice president juniors Diego Davila-Gil and Emerson coordinated the event to spread awareness. "A lot of people in our school district don't know that these laws are happening, especially those who aren't queer, because it doesn't affect them," said Davila-Gil.
"In California we have protections against this," said Armstrong-Azhar. "People in other states, like Florida, don't."
"Not saying gay doesn't stop queerness. The only thing it does it let that queerness build up, until it breaks through later on in life. The only thing that's going to come from this is an influx of people who have to come to terms with their sexuality later on in life. Saying gay normalizes it, lets people know that this is a thing that happens," added Davila-Gil.
"On March 8, 2022, the Don't Say Gay bill was passed in Florida," said Armstrong-Azhar in their speech. "We need to talk about these concepts so that people are safe, people feel comfortable in who they are. If we don't talk about it, we only perpetuate the problem."
Armstrong-Azhar then opened the mic to anyone in the crowd. "It's amazing to see that people care… You're here, and you're supporting everyone. And that isn't just me, that's everyone else on campus, closeted or not, that you're supporting," said sophomore Charlie Rose.
Stickers, wristbands, and masks were given out to the crowd during the walkout, as well as a handful of signs made by students in the Leadership Equity Council (LEC).
"We're here, and we're queer," said Armstrong-Azhar. "Nothing is going to change that."
Leave a Comment
Your donation will support the student journalists of Campolindo High School's The Claw. Your contribution will allow us to produce more issues and cover our annual website hosting costs.
About the Contributors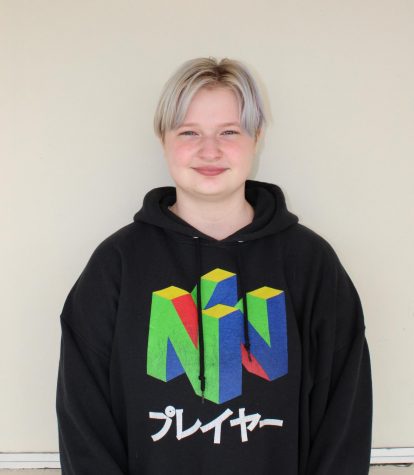 V Rogers (they/them), Staff Writer
Senior V Rogers has had a passion for literature since they were young: "My bedtime stories were Baldwin and Angela Davis." They have taken AP language...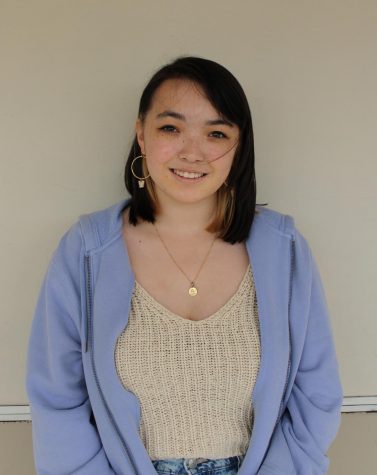 Grace Kelly, Lead Videographer
Senior Grace Kelly's passion for film led her to join The Claw art department. Kelly said, "Since I like making documentaries, journalism will definitely...