Student-Run Campo Night Live Performance Runs For the First Time in 2 Years
Campolindo's drama program put on its annual "Campo Night Live" (CNL) show, a spinoff of NBC's Saturday Night Live. The production was on the nights of October 14-16, hosted by teachers Paul Verbansky, Darrion Carlyle, and Shannon Sieckert, respectively.
Seniors Izzy Grassini, Alyssa Diggdon, and Daniella Rose produced and directed the show. "I didn't really know what to expect because we haven't done this in a couple years because of COVID, but it went really well and I was satisfied with the reactions from the audience," Grassini said. "To get the role as director, I just showed interest to Mr. McNevin and he put trust in us to get the job done."
Campo's band also played before the actual shows, providing a pre-show performance to keep the crowd engaged. The actual performances, 1 hour each, consisted of 9 skits and a monologue by the teacher host.
In the months and weeks leading up to the show, the directors dedicated a lot of time and work to make sure everything would run smoothly. "It was a long process. It started with us picking out the skits and holding auditions, then talking to and choosing the host teachers. Once all of that was settled, we started doing rehearsals every day afterschool for about a month before the shows," Grassini said.
"I thought it went really well and I'm really proud of it. Friday was probably my favorite night I think, because the audience had the most energy and because of that everyone performed well," Rose added.
Senior Rennick Coates, a drama student and actor in the production, said "Yes, there were mishaps on stage, but what we learn in drama is to be improvisational. We're taught to think on our feet."
"Now that it's over, it feels really weird. Sad and weird, but also relieving," Grassini said.
Junior Luke Wise was 1 of the few CNL cast members who are not in the drama program. "My 2 best friends were part of the production and told me it was open audition this year, so I thought it would be a good opportunity to get out of my comfort zone."
"The drama community was great to be a part of and I got to know a lot of new people in all 4 grades. Before the actual show, I was super nervous and kind of freaking out a little bit, but once you're actually on the stage doing your thing, it's all good," Wise said.
Senior Gracie Doane attended the show on Friday night. "I wanted to go Friday because a lot of my friends were part of the performance. I had Mr. Carlyle last year, so I wanted to hear his monologue," she said. "There wasn't a single scene I didn't laugh at — it was so funny. My favorite skit was probably 'The Loser' with Luke Wise and Molly Breznikar."
"It was my first time going to CNL, and I'm beyond happy I went. I think everyone should go to future CNLs," Doane added.
Drama teacher Chris McNevin was the teacher advisor of the show, but made it clear that he should not be given credit for the performances' success: "It's all about the directors and the students making it happen. I just support them in any way they need."
"The show was better than I expected," McNevin said. "My favorite part of the weekend was the end of each show — when they came back into the green room, just seeing their excitement, relief, joy, sometimes frustrations, but mostly, just seeing them feel really good about what they accomplished."
"I really liked the Campo Night Live environment because it's student-run. I'm really glad I did it, and I would definitely recommend it even to people who aren't in drama," Wise concluded.
Leave a Comment
Your donation will support the student journalists of Campolindo High School's The Claw. Your contribution will allow us to produce more issues and cover our annual website hosting costs.
About the Contributor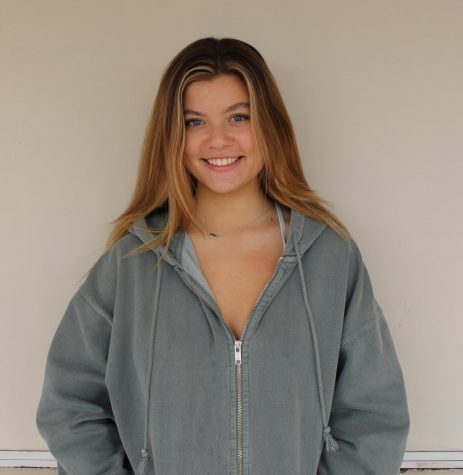 Charlotte Medema (she/her), Staff Writer
Senior Charlotte Medema enjoys listening to many different types of music, including rap, country, and indie. She loves the way it makes her feel and is...