APES Students Take Ecological Study to Mangini Ranch
AP Environmental Science (APES) students took their study of environmentalism out of the classroom and into the field, attending a field trip at Save Mount Diablo's Mangini Ranch on October 18.
Save Mount Diablo is a nationally accredited land trust and conservation organization, striving to preserve the lands on and around Mount Diablo through conservation efforts and educating the public. Campolindo's APES classes have partnered with the organization in the past, helping to preserve the natural land we live on and furthering connection with nature.
Save Mount Diablo's Executive Director Ted Clement said, "Unfortunately, there are a lot of studies that document what's commonly known as nature deficit disorder, and what that really means is our young, connected generations… aren't really connected with the natural world. They're connected with their devices. So, this is a great opportunity for us to get a lot of great young people outdoors, get them connected to nature, [and] work on doing service projects in the benefit of nature."
During the day, APES students engaged in hikes, field ecology, trail restoration, tree preservation, and a 30 minute solo, in which they spent time journaling and contemplating in nature without distraction. Ultimately, the trip's goal was to help connect more young people to their role in nature, helping them to develop a sense of responsibility for the natural world they live in.
Senior Lisa Garland said, "I felt like I did gain something because I normally don't go out in nature a lot and sit down and just enjoy it. It was a nice time to get away from all the anxiety in school and college applications."
While reducing our single-use plastic consumption, taking shorter showers, and consuming less red meat are all impactful individual actions, Save Mount Diablo argues that the most important environmental preservation tactic is to help people connect to nature. Once a connection has been established, people are more likely to engage in conservation.
Save Mount Diablo's Land Stewardship Associate Haley Sutton said, "I think that having you all come out here and protecting trees or making trails, and having that direct connection to the land, is what's going to get you to come back out and want to use this educational preserve… I think it's really important to get everyone more excited about wanting to conserve our open spaces."
APES teacher Katherine Guy, who attended the trip for the 1st time, said, "A field trip like this gives you the ability to experience all of those things as opposed to just sitting and learning in a classroom and looking at it in a textbook. Being able to get your hands dirty and do a little bit of conservation, I think, is really eye opening. Being able to immerse yourself in nature and be a part of nature is a way to cultivate a love for nature, and therefore you'll take care of [it]."
Mangini Ranch, which is located in Concord and connects to Mt. Diablo State Park, Lime Ridge Open Space, and Crystyl Ranch Open Space, was acquired by Save Mount Diablo in 2006. Part of the organization's mission is to acquire lands surrounding Mount Diablo so as to prevent development and preserve its biodiversity. Helping to restore trails and preserve oak trees, APES students contributed to Save Mount Diablo's efforts to prepare this portion of the land to be used for free by various local groups.
"These days… the stakes are high because we know [the] climate crisis is real, we know the mass species extinction event is real. But, it's just awesome being out here with a bunch of young people doing service projects for the natural world, getting connected to nature, [and] supporting one another. So, it was a great day," added Clement.
Guy encourages those who did not have an opportunity to go on the trip to explore these types of opportunities on their own, as Save Mount Diablo has many local volunteer opportunities available.
Leave a Comment
Your donation will support the student journalists of Campolindo High School's The Claw. Your contribution will allow us to produce more issues and cover our annual website hosting costs.
About the Contributor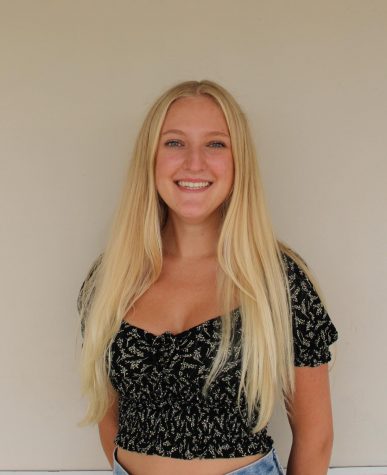 Jensen Rasmussen (she/her), Editor-in-Chief
Senior Jensen Rasmussen has been passionate about ballet since a young age, training and cultivating her love of dance throughout her high school career....