Academy Cohort and Choir Celebrate Black History Month
Campolindo began its celebration of Black History Month with a video performance from the Chamber Choir and announcements of several upcoming events during Academy Cohort on February 1.
The choir sang a poem written by Black poet Langston Hughes and arranged by composer Dr. Andre Thomas, "I Dream a World," by stitching together individual recordings of singers into a collective virtual performance.
Choir director Mark Roberts said that the song was Chamber Choir's 1st video project of the year, with practice beginning in August and the final video being posted in October. The recording was included by Leadership in the February 1 academy cohort as it celebrates 2 Black artists and happened to be the same day as Hughes' birthday.
"We always discuss 2 things as we are approaching these projects. And 1 is, I try to pick music that I feel like the students will connect with, will be meaningful to them, and will be something that they enjoy doing," said Roberts. "The second question was, what do we want to communicate with this? What do we want our audience to get from this? What do we want our impact to be?"
According to Roberts, the song was chosen because "the poetry obviously felt very timely, just with the continued idea of dreaming of a world with equality."
Roberts also took the opportunity to provide a "mini-history lesson" for his students on the Harlem Renaissance, a booming revival of African American culture and arts throughout the 1920's-30s, with particular focus on the music style that emerged from that era and background on Hughes' poetry.
"I really liked the song and obviously the poem was really nice, and the song isn't just word for word the poem put to music, it repeats certain phrases that are important. So when we were singing we would put more emphasis on certain repeated phrases because they were more important, so that's what I liked about singing it," said Chamber singer senior Shannon Crosby.
Throughout the video, several comments appear on screen from choir members describing what they took away from learning about and performing "I Dream a World."
"We all took the time to write a sentence or two about how we felt about singing the song…that was just kind what we hoped would be the impact that came out of the video and so it's cool that it's being used to celebrate Black History Month," said Crosby.
Roberts added that Choir classes continue "wanting the community to know that we're still gonna make music, you know, and we're still gonna be relevant and we're still gonna try as hard as we can to maintain the community that we've always been proud of, and the collaborative nature of the performing arts."
In addition to showing the Chamber performance, Academy cohort teachers presented an introduction to Black History Month using a slideshow provided by the administration that quizzed students on their knowledge of prominent historical Black figures.
AP US History and US History teacher Lisa Herzig used the period to encourage students to participate in the dialogue. "I asked my students in the chat, you know, why is it important that we have Black History Month, and everyone commented that they didn't learn this history, they even didn't know what they didn't know. They thought that it was good we were putting a lot of emphasis on it, that it shouldn't just be a month, and it's that 1 opportunity perhaps to get people to actually teach it," said Herzig.
In his Academy Cohort, Roberts said he "encouraged [his students] to think of something that they could do to, in some way, take an active role, whether that was reading something, learning something, exposing themselves to art, you know, anything."
Events incorporated into the school celebration of Black History Month include a lunchtime screening of the Pixar movie Soul on February 2 and 4 and an ongoing Black History Month art exhibit. Students were also encouraged to participate in a service project collecting hygiene products for the Bay Area Rescue Mission.
About the Writer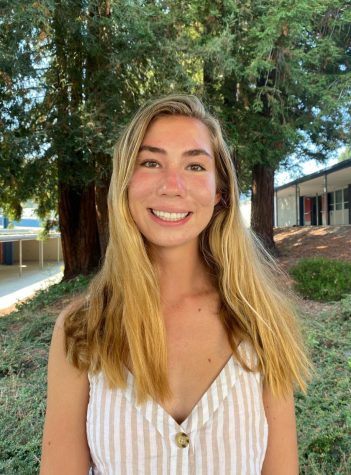 Gracie Woidat, News Editor
Senior Gracie Woidat has a passion for both working and caring for people and animals. She has found her calling by volunteering at the Lawrence Hall of...