CCOE Hosts Tobacco Use Prevention Webinar
The Contra Costa Office of Education put on "New Year, New Law, New Quitters," a live webinar aiming to educate the public about local tobacco policies and help services for youth and adults struggling with tobacco addiction on January 21.
The presentation was led by Senior Health Education Specialists Amreen Akhtar and Carrie Balthrop, who work with Contra Costa County's Tobacco Prevention Program, and the Clinical Director of the California Smokers Helpline as well as the Center for Tobacco Cessation Dr. Gary Tedeschi.
Akhtar and Balthrop introduced several updates that have been made to the county's tobacco policies, including the 2016 STAKE Act which implemented the requirement of ID checks for buyers over 21 and holds store owners accountable for illegal sales.
However, this law does not tackle the fact that many teenagers/underage users get their tobacco products from sources other than stores. "I think if an under-aged person buys directly from the store then the store should be held accountable, but I think a lot of underaged people get them from like second-hand dealers so in that case the store can't be held accountable if an of-aged person was the initial purchaser," said senior Katie Price.
Further restrictions include the SB-793 bill which prohibits the sale of flavored tobacco products, including vaping devices and e-liquids. Although the bill was passed in 2020, implementation has been postponed until the general public can vote on it in 2022.
According to Akhtar, this webinar among the other weekly Tobacco Prevention Coalition sessions are, "basically the county's way of outreach to the community and getting their input in guiding us on what we want to focus on and what issues we want to tackle."
The Tobacco Prevention Coalition works to "reduce youth access to tobacco" and "encourages policymakers to pass laws protecting residents from the effects of tobacco," according to their website.
Additionally, Tedeschi explained the methods used by the California Smokers Hotline to help guide those who decide to quit, including the Social Learning Theory in relation to tobacco usage. "Basically it's a very positive theory. Smoking or vaping or chewing is a learned behavior, so if it's learned it can be unlearned, and it's very optimistic, it focuses on people's confidence and their ability to change," said Tedeschi.
A strategy used by hotline workers is called Motivational Interviewing, in which they encourage the client to form their argument for quitting themselves. "Even if people call us or text us or reach out, we know that they feel two ways about quitting, they know they should but don't really want to change. So motivational interviewing is a great way to get people to make the argument for change themselves rather than somebody telling them they have to do it," said Tedeschi.
Tedeschi added that once there is sufficient motivation to pursue quitting, the next step is cognitive-behavioral therapy. "Basically this is saying change the way you think and change the way you act. That's how you're going to be able to quit. So making sure they're motivated and figuring out what they're going to do instead of smoking or vaping," said Tedeschi.
According to Tedeschi it could take 10-12 times for a person to quit smoking or vaping for good, so their mantra to combat this is simply "keep trying, never give up."
"What we really try to do is to get people to recognize that trying many times is normal and to never give up, just keep trying. We also focus on trying to keep them from going back to smoking," said Tedeschi.
"I think parents should pay attention because vaping is so new, like we don't know the long term effects of it so it could be very dangerous," said Price, adding, "Vaping especially has become really common and it's really easy for young adults to access so it's kind of like a gateway sort of thing, like a lot of kids are getting into it."
Leave a Comment
Your donation will support the student journalists of Campolindo High School's The Claw. Your contribution will allow us to produce more issues and cover our annual website hosting costs.
About the Contributor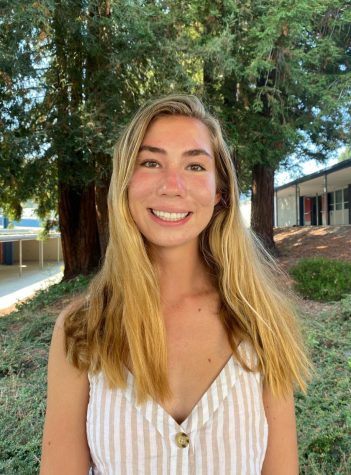 Gracie Woidat, News Editor
Senior Gracie Woidat has a passion for both working and caring for people and animals. She has found her calling by volunteering at the Lawrence Hall of...