New Associate Principal Overcomes Unwelcome Vandalism
Campolindo's new Assistant Principal Vanessa Knight faced a disturbing "welcome" in the form of a slashed tire, which she discovered while driving home from work on December 4. The Moraga Police Department is conducting an ongoing investigation to find the culprit and determine if this act was racially motivated, as Knight is Campolindo's 1st African American administrator.
According to Moraga Chief of Police Jon King while addressing the community during a Town Hall meeting on December 9, how and where the tires were damaged is still being investigated. Video surveillance footage is being reviewed.
"There is no room in our community for any hatred, bullying, or racism of any kind," said King, "We will continue to work until these issues are eradicated from our community, and to ensure that everyone feels safe and comfortable in our town."
News of the incident shocked the community, as it occured when Knight had only been working at Campolindo for 4 days and had minimal contact with students and parents.
Knight said that her initial reaction to the vandalism was 1 of "disappointment." "I just thought that it would come after I might have disciplined someone or had to make a tough decision or deliver a tough message. I was disappointed that it happened for just being me," said Knight.
"I really thought, you know, maybe I will return back to the school district I came from, because even though they're not that diverse either, I didn't have this level of mistreatment, and I didn't have a fear of going to and from work," admitted Knight.
However, Knight became resolved to stay after receiving an outpour of support from community members and students.
"The thing that flipped the coin for me that made me say, 'No, I'm going to stay, I'm going to do the work and have purpose while I'm here,' is really all the student emails, all the student letters and cards," she said. "Even if I just got 1 from 1 student, I would've been like, yep, that's all I'm staying. Just all I needed was 1."
After hearing of the incident many students rallied to give Knight a positive welcome and show support for her joining the Campo community. Art teacher Jill Langston, for example, has worked with her students to create virtual cards to send, and junior Angela Devine set up a drop off box outside her home for people to bring cards, artwork, and gifts for Knight.
"I got this idea because I was just thinking about how I would feel if I moved to a new school and then automatically had an act of violence against me. I would be very upset. I can only imagine what Ms. Knight is feeling and I wanted to make sure that she realized everyone in the community is stoked to have her on Campo's staff and I wanted her to get a proper welcoming to the school," said Devine.
"My initial reaction was horror. I don't understand what would motivate someone to do this," said Devine of the vandalism. "With all of the equity work and racial awareness training that has been taking place at Campolindo, I would assume people would have learned that doing something like this is absolutely horrible."
Before coming to Campolindo, Knight worked in Pleasanton Unified School District as a special education program specialist, and wanted the "fun, interesting challenge" of working with and supporting high school students.
She became drawn to Campo while going through the 3 part interview process to become assistant principal. "I just really connected with all the members of the interview panel, and their passion for their school and their community really shine through. And I thought if it was important enough for them to have so many people and such a diverse group on a panel, that's a school that I want to be at," said Knight.
"I chose to come here. And so the response and the support reiterates why I chose to be here because the good outweighs the bad, far more," added Knight.
Devine believes that, "this incident goes against everything that Campo has been working towards," adding, "Campo has tried to make an effort to increase racial awareness on and off campus through racial equity training every Monday."
According to Knight, "spreading more kindness and compassion is really how you combat hate and inequity and bullying. It really is. And not allowing space for any inequity, any hate, any wrongdoing, any bullying."
"If you think about true confetti, like coming out of a popper, it spreads all over. And a week or 2 later, a month later, you find little bits of glitter in random places like in your hair or on the carpet. If you were to spread kindness and compassion like that, it would outweigh the bad and the negative," explained Knight.
When asked what message she would like to send to the Campolindo community, Knight said she would sum up her words in the poem "In Lak'ech." "When you read it, it really makes you think about what the effect of doing harm to someone else has on them, as well as ourselves. And so it makes you think twice about being mindful about how you navigate in this world," said Knight.
View Comments(1)
Your donation will support the student journalists of Campolindo High School's The Claw. Your contribution will allow us to produce more issues and cover our annual website hosting costs.
About the Writers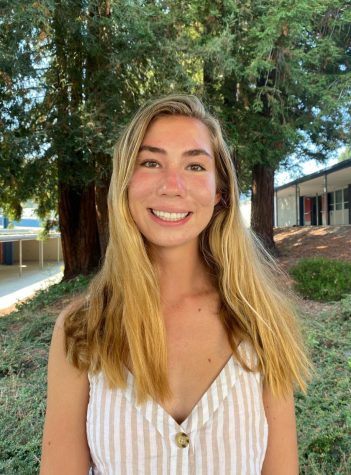 Gracie Woidat, News Editor
Senior Gracie Woidat has a passion for both working and caring for people and animals. She has found her calling by volunteering at the Lawrence Hall of...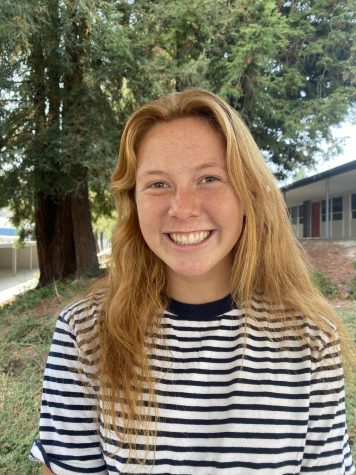 Jessica Rosiak, Editor-in-Chief
Jessica Rosiak, a senior at Campolindo, has always looked forward to exploring new places around the world. "I enjoy going to places that are unique and...