Small Groups Return for In-Person Academy
With AUHSD administrators recommending a phased-in approach to any hybrid model of instruction, some small groups of students have begun to return to campus.
The Contra Costa County Office of Health Services allowed schools to reopen for in-person instruction on October 13. This prompted significant deliberation, ultimately resulting in a Governing Board decision to allow staff who wished to provide on-campus offerings to submit proposals for various small groups.
Librarian Sarah Morgan said, "The on-campus teachers (there are about 20 of us) really want to serve the students that need a little extra support so they don't feel so alone during Distance Learning. We feel that we're much closer to reaching 100% of our students by opening up opportunities for a few on-campus activities."
The library has begun welcoming small groups of students during Academy periods. "Some students will benefit from coming to campus to work with me (teacher-librarian) or their academic teachers because sometimes face-to-face learning is what a student needs in a certain situation," said Morgan. "Certain concepts are best learned when you have a one-on-one experience with a teacher."
However, face-to-face learning is not the only appeal of these in-person sessions. Attending the library Academy in-person can also provide a quiet, academic environment for students who may not have access to one at home.
"Being in an academic environment is a motivator to some folks and helps keep them focused on completing certain tasks. It's also nice for them to have a teacher available to help them with work or give them a pep talk, if that's what's needed," added Morgan.
Other groups, such as clubs and elective classes, have also met in small groups on campus. According to Morgan, the Leo Club met to write letters to veterans for Veterans Day, choir practices are being held at the bleachers on the track, the Poultry Club has met at the chicken coop, and the Garden Club has met in the garden.
"I was inspired to offer Poultry Club small groups on campus because I feel like being outside with others is extremely important to social-emotional health, and that is the main area I struggle with and miss the most in our distance learning situation," said science department chair Roxanna Jackman.
Jackman said, "We can take care of business on Zoom, but the little conversations that we used to have by accident, while walking to the parking lot, or heading down the hall, are gone from our Zoomed world. All of the small group opportunities that we are offering on campus give students and staff the informal opportunity to chat and make connections with each other."
Thus far, Jackman's Poultry Club has met once in the garden. "It was a joy to see the members holding the chickens and the crinkles around their smiling eyes peering over their masks. Members had plenty of time to learn the names and personalities of our current chickens, as well as some strategies for catching and holding them," added Jackman.
Choir student senior Mackenzie Bunzel-Hardie said, "Attending the on-campus choir Academy was so fun. The Academy was held outside on the football field and we were distanced and masked the entire time, so I felt very safe. It was so fun to sing with my friends again and to harmonize and hear other people's voices. It really brought me a lot of joy."
Those hosting and attending on-campus small groups are following strict safety protocols regarding COVID-19. All students and staff are required to stay socially distanced, wear a mask, bring their own supplies, and sanitize furniture after use.
Morgan said, "The school district requires a special parent permission to be on campus as well as a daily health COVID screening form to ensure that they are feeling healthy and have not been near anyone infected with the COVID virus. Library staff also wear masks, adheres to social distancing rules and we use a plexiglass barrier when checking books out to students."
As distance learning continues, in-person small groups allow for educational and emotional opportunities that are unavailable virtually. Jackman said, "I'm really glad the district is allowing several of us to try out a variety of ways to provide safe, face to face opportunities on campus. I hope that eventually opportunities can be expanded enough so that ALL students have some way of obtaining some face-time on campus."
Bunzel-Hardie added, "I do think it would be great if we can safely provide more on-campus meetings like this in the future. It is important for students' mental health during this pandemic to feel a sense of community and to safely socialize and feel some sense of normalcy."
Leave a Comment
Your donation will support the student journalists of Campolindo High School's The Claw. Your contribution will allow us to produce more issues and cover our annual website hosting costs.
About the Writer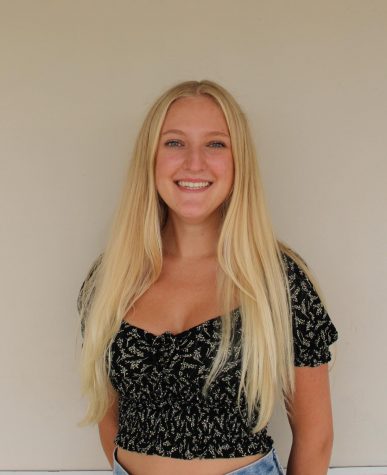 Jensen Rasmussen, Editor-in-Chief
Senior Jensen Rasmussen has been passionate about ballet since a young age, training and cultivating her love of dance throughout her high school career....