Board Examines Possibility of Hybrid Model Shift
The AUHSD Governing Board discussed the possibility of transitioning to a hybrid learning model for the 2020-21 school year during their October 7 meeting.
With Contra Costa's shift from the purple to the "substantial" red tier of the State's Blueprint for a Safer Economy, meaning that the county's average case rates dropped below 7 per 100,000 people and testing positivity rates below 8%, the county is now allowed to reopen schools beginning on October 13, given that it remains in the red tier for 2 consecutive weeks.
Despite being approved for in-person instruction, a plan outlining the reopening of AUHSD schools beginning in the 2nd semester was introduced during the Board meeting.
Given Contra Costa's downward trend in COVID-19 cases since mid-September, the Board deemed it an "unacceptable timeline," according to student board member senior Preston Nibley. Instead, a new plan will be introduced on October 21 allowing students to return to in-person learning ideally 5-6 weeks before the end of the 1st semester.
While there is "not much reason to believe that situation will be significantly better by the beginning of 2nd semester," and there is enormous backlash toward distanced learning from the community, Nibley supports an expedited implementation of a hybrid model.
In fact, according to Nibley, the Board has received over 600 public comments detailing students' anxiety, lack of motivation for school and life, hatred for school, and increased rates of depression.
Nibley agrees with these concerns and believes that students and parents have "every right to be very skeptical," when the district goes against government recommendations by postponing in-person learning.
However, Nibley is confident that the Board has the best interest of the community in mind when it comes to re-opening. "The board consists of parents and 1 student so we are in the exact same boat. So thankfully we are actually kind of one really large group that is working towards the same goal," said Nibley.
According to Nibley, the Board is more concerned with the well-being of students than increasing the effectiveness of their learning environment: "The goal of the board now more than anything is to increase interaction between students and teachers and students and students with the academic focus being secondary because we think we have that under control," said Nibley.
Regardless, Nibley himself "would have personally been outraged," if the hybrid model was delayed for 10 weeks, and has since received feedback from parents that they are "happy that the policy is being reworked."
Senior Noel Seo agrees with Nibley and has "been hoping for a hybrid schedule from the start of the pandemic."
"I think going hybrid would enhance our learning and add much-needed variety to our lives. We would definitely need to enforce protocols like hand sanitizer, social distancing, and masks, but I think hybrid could work due to the open layout of our campus," said Seo.
Senior Sophie Webster, however, feels as though the district should take their time to implement a hybrid model.
"I will be happy to go hybrid when it is safe enough to do so, but at least right now I don't feel it is the best idea and necessary," said Webster.
According to Nibley, any arguments against reopening are based on waiting until a vaccine becomes available, which Nibley deems to be a "very unlikely scenario."
Moving forward, the Board must make decisions about the logistics of the hybrid model.
According to Nibley, the board is looking for ways to "divide a schedule that properly allocates staff that are willing to go back who are safe to go back," in a way that causes "minimal disruption," for students who are already concerned about returning to school.
Besides discussing a hybrid model, the Board voted 5-0 to make October 2020 Bullying Awareness Month in AUHSD schools. This resolution encourages parents and students to engage in educational, awareness, and prevention activities in regards to bullying.
Campolindo student representative senior Maggie Buckley also updated the board about Campo's recent activities and events including the campus culture student survey, the administering of the October 14 SAT for seniors, the implementation of a Bias Incident Reporting System, the Diversity Dispatch newsletter, Jon Drury leaving his position as Associate Principal at Campo, and other upcoming events.
Leave a Comment
Your donation will support the student journalists of Campolindo High School's The Claw. Your contribution will allow us to produce more issues and cover our annual website hosting costs.
About the Writer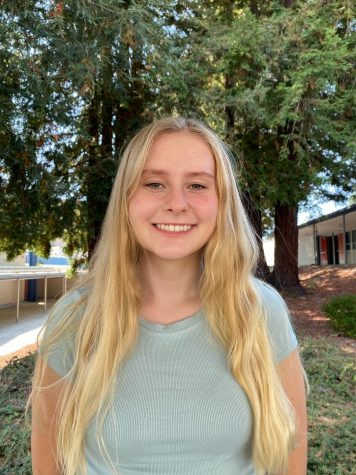 Erika Riedel, Sports Editor
Senior Erika Riedel enjoys volunteering and spreading awareness for multiple organizations. This summer, she volunteered at a number of places, including...