Student Coalition Lobbies District Board to Reinstate Interdistrict Transfers
The Acalanes Union High School District (AUHSD) Governing Board unanimously voted to reinstate interdistrict transfer students into the district on September 17.
This new policy allows for transfer students to be admitted up to district capacity, with priority being given to those who have a parent or guardian employed in the AUHSD or partner districts, a sibling who is a current student of the AUHSD, and those who attended 8th grade in a partner district. All interdistrict transfer students under this policy will be granted 1 year of attendance to any of the AUHSD schools and will have to reapply the following year.
Unlike the ban on all interdistrict transfer students instated in 2018, under this new policy, students can only be denied admittance into the district if there is not enough space for them.
According to data collected by the AUHSD during the 2017-2018 school year, the ban enacted in 2018 resulted in a 7.1% decrease in students of color and 11.1% decrease in socioeconomically disadvantaged students enrolled in the district. In response to student protests against the ban, the district agreed to admit 50 transfer students for the 2019-2020 school year. In hopes of completely abolishing this ban, an organization called the Acalanes Union Coalition for Transfer Students (AUCTS) was founded on July 14, 2020.
Comprised of current students opposed to the 2018 ban and transfer students denied education in the AUHSD due to the ban, the group lobbied the AUHSD Governing Board to change its transfer policy, according to AUCTS head of digital media Athena Davis, a Miramonte alumna.
Davis said, "The Black Lives Matter movement definitely sparked us [AUCTS] to start the 2nd round of activism to bring back transfers, but it also had to do with the school board passing a new racial equity policy."
The AUCTS was able to heighten community awareness of the issue and get the ban lifted by utilizing social media, speaking at Governing Board meetings, and holding a rally on August 4 outside of the district office.
The group argues that a "ban on transfers fortifies already existing segregation in the Bay Area by shutting out Black and Brown students from surrounding communities that are majority people of color, including Concord, Oakland, [and] Richmond," according to Davis.
Davis said, "A ban on transfers goes against the idea of accessible public education for all by shutting out students who cannot afford to live in Lamorinda and Walnut Creek, which have exorbitantly high housing costs."
Davis added that transfer students are "essential to upholding both racial and socio-economic diversity in AUHSD," both of which are "important to ensuring our district lives up to its goals as a public institution."
"The only pushback from the board was worry about the cost of transfer students. However, we were able to prove that the cost of transfer students was minimal if we brought in students up to district capacity," said Davis. "The new transfer policy addresses this by stating that students can only be turned away if there is not enough space in the district for them."
The Campolindo Diversity Board supported the decision to bring interdistrict transfer students back to the AUHSD. "Outside of our bubble in Lamorinda, students will face a diverse world and they should be prepared for that in high school," the Diversity Board wrote in a statement read at the Governing Board meeting on September 17.
According to senior Maggie Buckley, the Campolindo student representative to the AUHSD Board, students in the AUHSD are "privileged to have access to some of the best public schools in the country," and it is their responsibility to "share that privilege," by lifting the ban on transfer students.
"As a community, we have done so much to push diversity and racial equity, especially over the next few months and for us to not support the entrance of interdistrict transfers would go against everything we have worked for," said Buckley.
After achieving its goal of bringing back transfers into the AUHSD, the AUCTS will be redirecting its efforts towards "ensuring transparency in the transfer process through ensuring the board publishes detailed data on the number of transfers who apply, how many are granted transfer, and demographic data," as well as "creating initiatives to make transfering a more accessible process," said Davis.
The AUCTS will also be "working with current students to make our campuses a welcoming environment for transfers of all backgrounds and brainstorming pathways for transfers to be integrated into our campus communities," said Davis
Many students believe that racial equity courses will help to fulfill the AUCTS' goal of making the AUHSD more inclusive for the new transfer students. According to senior Sadie Habas, the next step for the AUHSD is to implement a "mandatory anti-racist curriculum for students," as well as "harsher consequences for students in the district who prove to be racist on and off campus."
"That way, the students who perpetrated racism will be forced to change their ways," said Habas.
Buckley also hopes to see the efforts towards diversity and inclusion in the AUHSD continue even now that the ban is lifted.
"We have made good progress but it is clear there is still work to be done. I am, however, happy with the direction Campo is heading," said Buckley.
Leave a Comment
Your donation will support the student journalists of Campolindo High School's The Claw. Your contribution will allow us to produce more issues and cover our annual website hosting costs.
About the Writer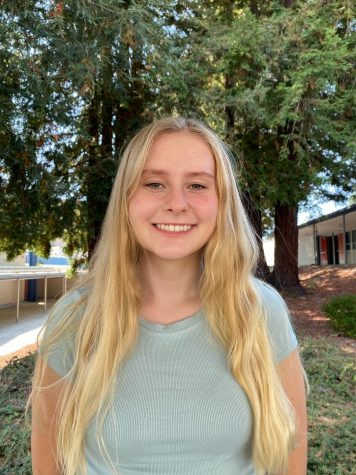 Erika Riedel, Sports Editor
Senior Erika Riedel enjoys volunteering and spreading awareness for multiple organizations. This summer, she volunteered at a number of places, including...