Poultry Club Raises Friendlier Flock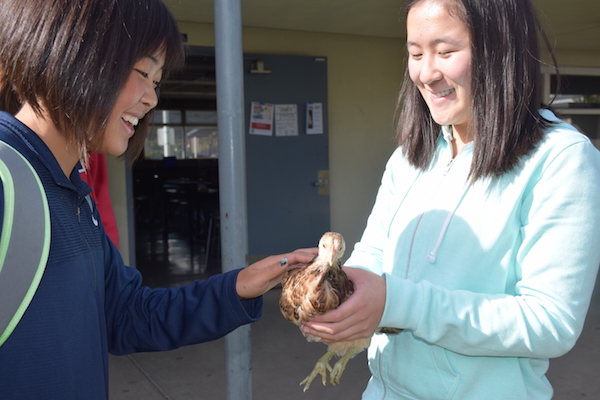 With an increasing demand for space and more adorable chickens, the poultry club has decided to try a new breeding program to allow for more Bantam chickens this year. Starting November 3, the club will be giving away some of their less desirable chicks.
"We're about to get rid of some chicks… so that they [the poultry club] have the ones that they want for the spring round [of hatching]," said club advisor Patrick Wildermuth.
Every year, the poultry club and the biology department work together to raise chickens as part of the science curriculum. They hatch 20 in the fall and 20 in the spring. "The science teachers get a lot of free eggs," laughed club co-president senior Sierra Berrick.
At the end of the year, they have to find homes for the chickens. "Usually we have the biology teachers ask their classes, 'hey, does anyone want some chickens?' Or I'll take them. Or Kendall will take them," said Berrick.
Bantam chickens are a smaller chicken breed that require less space and food. "We have a really full chicken coop with a lot of really big hens, so we're going to downsize the current flock in the chicken coop and start breeding only our smaller Bantam hens and roosters to get a smaller batch of cute little chickens," said Berrick.
The club usually has a mix of breeds such as Bantams and Araucanas. Berrick admits she doesn't keep Bantams at her house because they aren't good egg layers. Although, she said, "they make great pets."
The program was first proposed by co-president senior Kendall Schmidt. She said, "We're breeding for friendlier rather than productive, so even though the birds we're choosing might not be great egg layers, they're more social."
Wildermuth said, "We don't care about eggs. We care about creating an interest in chickens."