AcaDeca Falls Short of 3-Peat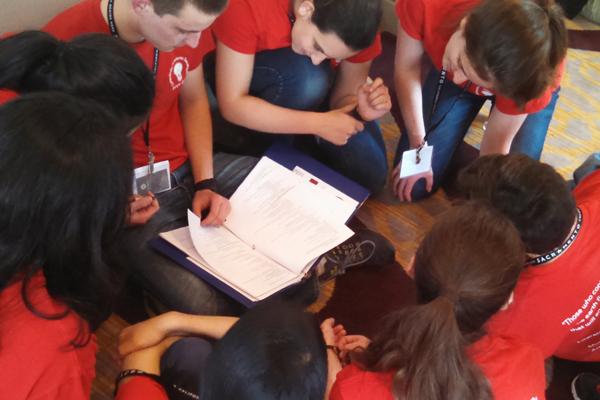 After winning at the regional level, the Academic Decathlon team finished their year as the runners-up at the state tournament, which took place from Friday, March 20 to Sunday, March 22.
While they returned without the first place trophy, they were a close second in their school size division, with scores only a couple hundred points behind the champions. It was the team's fifth consecutive year making it to the state championships.
AcaDeca co-captain Uma Gaffney explained, "The state championship takes place in Sacramento, so we left Thursday morning on the train up to Sacramento and then on Friday we had our objective tests. We took seven Scantron tests for the seven AcaDeca subjects, and then on Saturday we had speeches which we had to give. We did an interview and then we had an event called Super Quiz. Then Sunday we had the awards ceremony."
Although their achievements fell just short of a national championship berth, coach Paul Verbanszky called their winnings "notable." Verbanszky said, "Uma Gaffney won a perfect score in interview, she got 1,000, and she also won 3 other medals in other subjects including the highest performing student on the team."
Other individual standouts included juniors Polina Florova and Sunwoo Hong, who both earned silver in the math category.
Even with such honors, Gaffney admitted she was disappointed. "We ranked 26th overall for the state. Was I happy with that? No. We ranked tenth last year," she said.
Gaffney chalked up their results to less experienced team members. She said, "Last year our team was made up of ten seniors and a sophomore, but all of those seniors graduated, so there were many more inexperienced members of the team this year."
Co-captain Katie Coates believes that the performance at state will ultimately strengthen her team. "We learned a lot this year," she said.
The 2014-2015 theme for the competition was "New Alternatives in Energy and Innovation."
"I learned that it's gonna be pretty important for the world to develop alternate forms of energy instead of relying on oil, because oil doesn't just have devastating environmental consequences; it's also equally devastating economic and political consequences," Gaffney said.
Coates said, "We learned some topical stuff about energy policy which was pretty cool, but I have lots of hopes for next year. Our theme is going to be India, which is really exciting."
Verbanszky is also already looking ahead. "The topic will be India, and we're gonna start end of April, May, just introducing the new topic and having quick meetings for new members, telling them what it's about. Then those who choose to can start studying and preparing, those who do not, can wait until the fall, and that's great, too."
The team is looking for new members, and recruitment will start in May.
Verbanszky explained that while the club has the reputation of having "just a bunch of straight A students" students of all GPA's are not only welcome, but needed. "We especially need students that are under a 3.0 to build up something called the varsity category," Verbanszky said.
Verbanszky explained that it isn't all about scholastics. "The hard part is how can you explain test taking as fun?" Verbanszky said. "It's not about the test taking; it's about the camaraderie you build, the collaboration, food at the meetings, a place to go. It's a lot of fun when you really get into it. If somebody likes to learn or is curious but may not always love the school-type of environment, this is the place to be."
As for this year's state results, Verbaszky said, "It was very close. We're disappointed, but at the same time we're fired up for next year. We definitely want to reclaim our state title."