Top Holiday Songs for the Happiest Season of All
With the happiest season of the year quickly approaching, many students have started to listen to classic holiday music. Holiday tunes range from heartbreak anthems to cheery choruses, featuring songs for everyone. In The Claw's opinion, these are the top 15 songs for the holiday season:
1. "All I Want For Christmas Is You" by Mariah Carey
This 1994 classic Christmas song is still extremely popular today. In fact, Billboard ranked this song #1 on Billboard's Holiday 100 List for songs played at least 90% of the time during December and January weeks.
2. "A Kwanzaa Song" by Lovely Hoffman
This uplifting song celebrates the season of Kwanzaa with lyrics "Pledging Unity // In our family // And community // IT'S KWANZAA." Singer Lovely Hoffman teaches about the meaning of the seven principles of Kwanzaa through the chorus.
3. "Chanukah (Shake It Off)" by Six13
In this unique Chanukah song, Jewish A Cappella group Six13 does a remix of Taylor Swift's iconic 1981 album song 'Shake It Off' to tell the story of the Maccabees. This song was released in 2015 and uses clever lyrics to celebrate and tell the story of the eight-day festival of lights.
4. "Santa Tell Me" by Ariana Grande
In this Christmas pop song, Ariana Grande sings about her past winter heartbreaks. The lyrics "Santa, tell me if you're really there // Don't make me fall in love again // If he won't be here next year" symbolize the idea of a holiday love that won't last past New Years.
5. "Underneath the Tree" by Kelly Clarkson
This iconic song remains a holiday favorite year after year and it's clear why. The upbeat carols and vocals elevate the Christmas cheer.
6. "Favorite Time of Year" by Carrie Underwood
In this cheery song, artist Carrie Underwood sings about the magical aspects of wintertime and celebrating Christmas. Every lyric demonstrates why Christmas is her favorite time of the year.
7. "Mistletoe" by Justin Bieber
This contemporary song features the Canadian singer Justin Bieber. This song was released as the lead single for his first Christmas Album "Under the Mistletoe" in 2011. It has soared not only on the music charts but also into the hearts of many listeners. Freshman Courtney Rogers said that "Mistletoe" is 1 of her favorite songs.
8. "Cozy Little Christmas" by Katy Perry
This upbeat song by Katy Perry was written about her time spent with her family in Copenhagen, Germany. It features jingle bells and lyrics stressing the importance of love and family over needing gifts.
9. "Jingle Bell Rock" by Bobby Helms
Ranked #9 on Billboard's Holiday 100 list, this song released in 1957 remains popular year after year. This Christmas classic will always remind us of the cheery holiday season.
10. "It's The Most Wonderful Time Of The Year" by Andy Williams
Andy Williams released this classic song in 1963. Singing of the joyfulness of wintertime and the "hap-happiest season of all."
11. "Snow in California" by Ariana Grande
This original song was released as the 3rd single in her Christmas Album "Christmas Kisses" in 2013. Different from the classics, Grande sings about asking Santa to make it snow in California so her long-distance lover will stay in town longer.
12. "Rockin' Around the Christmas Tree" by Justin Bieber
Originally written by Brenda Lee, this song talks about dancing around a Christmas tree and traditional holiday activities. Bieber's modern spin on this Christmas classic is guaranteed to bring listeners some holiday spirit.
13. "Last Christmas" by Wham!
This holiday song by British pop duo Wham! released in 1984. Written by George Michael in his childhood bedroom, the song has sleigh bells and sings of overcoming past Christmas heartbreak.
14. "You're A Mean One, Mr. Grinch" by Tyler the Creator
This new take on the original song by Thurl Ravenswood came out with The Grinch movie in 2018. Featuring raps and some new lyrics, the song is sure to entertain listeners.
15. "Christmas Tree Farm" by Taylor Swift
Inspired by the Christmas tree farm she grew up on, Taylor Swift sings about family, Christmas spirit, romance, and nostalgia in this special holiday song. The official music video features a series of home videos that capture Taylor Swift's childhood growing up on the Christmas tree farm with her family.
Freshman Maggie Mandell said, "My favorite holiday song is 'All I Want For Christmas Is You' by Mariah Carey because it is such a classic song. And it's so catchy. I feel like everyone knows the song."
Senior Lela Tolajian said her favorite Hanukkah song is "the Adam Sandler Hannukah song." Tolajian said that she thinks maybe there should be more Hanukkah songs but, "I really like Christmas songs actually."
Mandell added another holiday favorite, "'Santa Tell Me' [by Ariana Grande]. Another classic. Very catchy."
Rogers is excited to do traditional holiday activities and to listen to the holiday jams. "I am super excited for winter break because you can go ice skating, and maybe some people [will] go caroling," Rogers said.
Leave a Comment
Your donation will support the student journalists of Campolindo High School's The Claw. Your contribution will allow us to produce more issues and cover our annual website hosting costs.
About the Contributors
Claire Birdsey (she/her), Staff Writer
When she was 4 years old, Claire Birdsey was enrolled in her first dance class and has been hooked ever since. Dancing at CAPA in Moraga since 2017, she...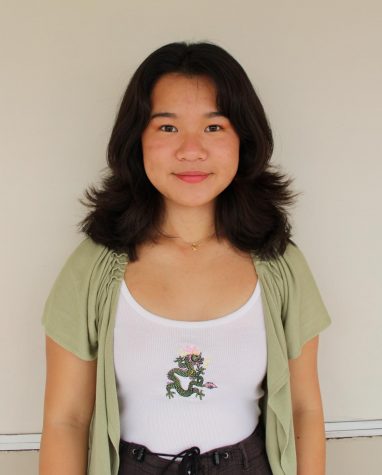 Ashley Xu, Co-Visual Media Editor
Senior Ashley Xu has been interested in art since she was in the 3rd grade.

Xu is fascinated by iconic painters like Monet and Dali. "I like Monet's...