Science Trip Explores Native Species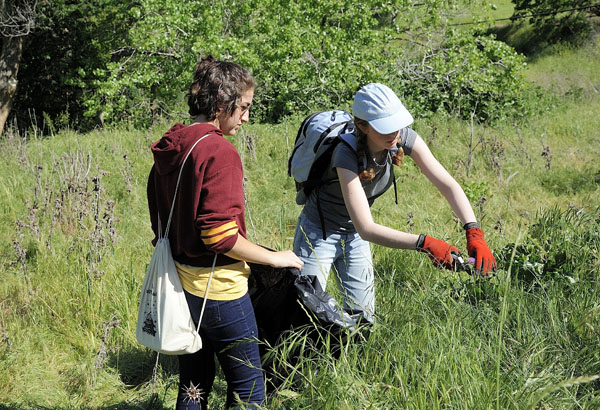 In their 2nd year of partnership, the AP Environmental Science class teamed up with non-profit Save Mount Diablo for an outdoor field trip on April 22 that ended with the class bringing back a native grass species to be planted in the campus garden.
APES teacher Jane Kelson said the species they took with them is a "gorgeous" purple color that they hope to propagate in areas they know they will not be growing food. Instead, the grasses "can be part of the aesthetics of the garden," she said.
The idea was APES student, Environmental club member, and Officer of Sustainability junior Alexandra Yokomizo's. She said learning about invasive species in APES inspired her to bring back the plant from the trip, known as "bunch grass," to replace the non-native species present in the garden.
The grass was planted in the garden on April 26. "We're trying to have an area for kids to come by from Campo and see what is actually supposed to be growing there and be aware that there are invasive species out there that have been taking over the native species," said Yokomizo.
Students can visit the garden and help out with maintenance every Thursday, or stop by at any time to see its new California native species area.
The trip itself had 2 parts, the 1st an in-class guest lecture Save Mount Diablo' executive director Ted Clement on April 15 about their mission to connect students with nature and preserve the land. Students learned the organization was founded in 1971 and has helped conservation around Mt. Diablo by purchasing undisturbed areas and working with local ranches to maintain a healthy landscape.
The guest also recommended sturdy shoes, a backpack, water bottle, and sunscreen for the trip itself, a hike across their new property, which they purchased to save from development.
Kelson said 1 of the most interesting parts on the trip was learning about the property's history. It was originally a golf course, "which is just crazy, to put a golf course with all those pesticides and fertilizers right on a watershed," she said. Since Save Mount Diablo became its owners, however, they have begun an extensive restoration of the area.
She also learned about a native species of grape that makes its home on the property. "They were beautiful," said Kelson, although there were, unfortunately, no grapes for them to eat.
As part of their attempt to get students closer to nature, the Save Mount Diablo organizers planned for students to spend time doing a "solo",  a period of time spent alone outside in contemplation while writing down their thoughts.
"Sometimes it's nice to just sit down and remember where we came from," said junior Ava Sparacio, "It was really relaxing because you step away from everything and see nature is still here and homework is not everything."
This was actually Sparacio's 2nd time on the trip, since she went on 1 with Save Mount Diablo in 8th grade, before their partnership with Campolindo.
Sparacio's favorite memory on the trip was near the end when they were supposed to go to the creek and see the amphibious creatures that live there. "They told us we ran out of time for that portion, but she was like, 'No, let's just keep going!' so we ran off to go do that with the instructor real quick even though we didn't have time for that and it was really funny," she said.
The students were able to enjoy the trip for only the $15 it costs to join Save Mount Diablo because APES teachers Tren Kauzer, Kelson, and the science department covered the cost of the bus and substitute teachers. "Susie was our bus driver," said Kelson.