Amateur Artist Enters Local Competition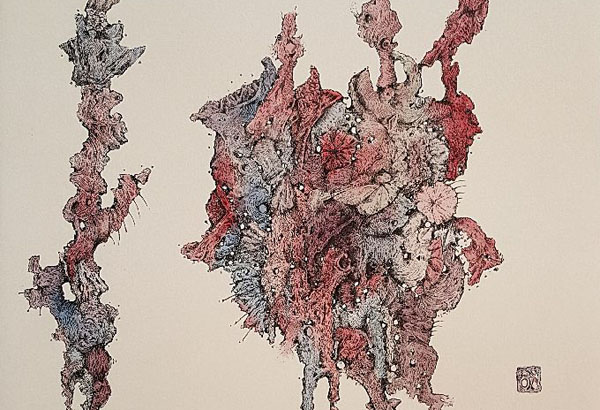 Self-taught artist junior Brightan Ying's work "Mindless Thought" was among several 2-dementional pieces featured in the 16th annual Lamorinda Arts Council Visual Arts Competition on February 20.  Ying earned an honorable mention award for his work.
Ying's abstract piece was created as an inverted version of artist Mark Rothko's famous color-blocked paintings. "He went for a very simple palette and a very simple design while I went for the complete opposite," said Ying. He added that Rothko's focus on art being more of an experience than having meaning also helped form the piece.
Ying learned about Rothko and other influential artists and art forms from his Advanced Placement Art History course. "We learned about Japanese art and how there was a balance with lighter colors and emphasis on line work and flow," said Ying. "Instead of your eyes getting lost in color, your mind gets lost in all the lines."
"Mindless Thought" is part of a portfolio Ying has developed as a member of the Dead Art Society. The club, hosted by sophomore Mindy Luo, has students discussing artists and assigning projects on different art topics. The club asked members like Ying to submit their works to the Lamorinda competition.
Despite the skill his award suggests, Ying has never taken an art class at Campolindo. Instead, he carries around his sketchbook all day and attends an art class at night. "I used to bring 3-4 sketchbooks with me in a giant bag," said Ying. "I try to get in 2-3 hours of drawing a day."
He also has a message for everyone afraid to get into art. "A lot of the times what happens is that you don't like the piece. When I started mine, I despised it, I thought it was going to turn out terrible. But if you force yourself to keep working on it, eventually even if it doesn't look good to you, you can be proud of it because its yours," said Ying.
CORRECTION: This article, originally published on March 8, incorrectly reported that Ying had won the Lamorinda Arts Council  visual arts competition.  Ying earned an honorable mention award in the 2D category.