Math Vacancy Helps Cousins Connect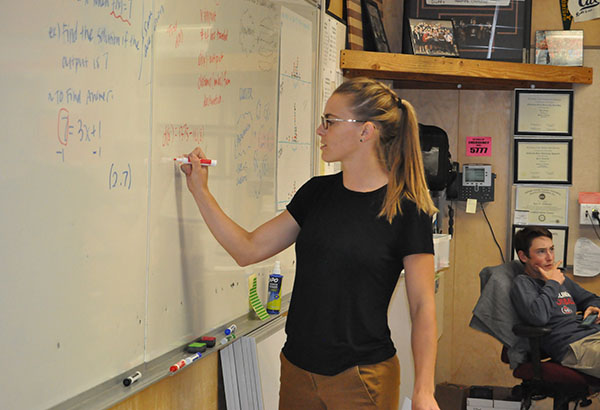 Seattle native Erica Fisher is the new AP Statistics instructor. Coincidentally, her 2 cousins currently attend Campolindo, and 1 is in her class.
The move was an easy decision for Fisher. "I worked at Las Lomas 2 years ago and I really liked this district, and my sister has 2 really cute kids in Alameda so I wanted to come back to California. My cousins go to Campo so I was excited to come to this school," said Fisher.
Senior Riley Breul, 1 of Fisher's cousins, said, "I'm happy for her because I think this is where she wants to live."
Breul hadn't planned on taking AP Statistics, but said that after his mother found out his cousin would be teaching the class, he was "forced" to take it. His relationship to Fisher was 1 of the 1st things she announced to the class.
Even though he admitted having a relative teach his class was a little strange, Breul said, "So far, I feel pretty comfortable with the curriculum and it's pretty interesting."
Due to increasing campus-wide enrollment, Fisher shares 2 different classrooms on campus with other teachers. "I'm a very disorganized person to begin with so it's gonna take me a while to adjust, but I will get there," she said.
Fisher has introduced a new learning tool to both her Algebra I and AP Stat classes. The Plicker cards, a way for students to submit their answers to questions on the board, is similar to the popular website "Kahoot."
"I like the style of teaching," said sophomore Leon Mikulinski.
According to Fisher, although Plicker cards are new to Campolindo, "it was in this district 2 years ago and they used it for Biology so I started using it at Las Lomas 2 years ago and I like it because you guys can't use your phones so you don't have to rely on technology, which is convenient," she said.
"It's really early in the year still so it's super busy and stressful but it's been great, I'm really happy to be back in the district and it's really fun to be in the same school as my cousins," said Fisher.