WASC Accreditations Highlight Kitchens' Tenure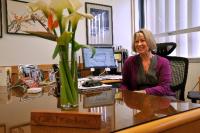 After eighteen years of service at Campolindo High School, principal Carol Kitchens will retire at the end of the 2012 school year.  Before passing the torch to incoming principal John Walker, Kitchens reminisced about her career accomplishments..
Kitchens has served Campolindo since 1994, working with students, their families, teachers, and the Lamorinda community.  "I'll miss my students.  They are the best part of my job," said Kitchens.
Additionally, Kitchens will miss teachers, whom she has come to know well over the years and for whom she has the highest respect.  She said she will also "miss all the interaction with people," as well as "the frivolity, joy, and energy that the students bring to school each day."
Kitchens' proudest moment was Campolindo's successful completion of the WASC evaluations.  She explained, "We earned six-year clear WASC accreditations twice during my tenure.  That's huge!  Very few schools get two accreditations six years apart.  This accomplishment was the crowning moment for me."  The WASC accomplishment was especially meaningful to Kitchens because she felt that "it validated all of the hard work of the students, teachers, and parents" in making Campolindo an outstanding school.
Kitchens feels that she has grown into her position: "I'm not as uptight as I first was the first couple of years.  I'm much more reasonable.  I'm more flexible about things.  I'm more thoughtful.  I'm not as quick to make a decision without thought.  I've become a better listener.  I think I'm better at what I do."  Kitchens noted that she is very self critical, as she always strives to learn from mistakes and to improve.
One of Kitchens' most challenging times as principal occurred in 2011 when the College Board demanded that all AP testing be re-done because of its claim that students were not seated exactly five feet apart.  However, despite this setback, the students rose to the occasion, retook the tests, and scored better the second time.  Kitchens recalls how proud she was of the students and the support of their families, noting that this incident demonstrated how "we are a resilient community."
When asked which part of the campus she will miss the most, Kitchens replied, "The library…that's my favorite place.  It's always busy, it's a thriving place.  It's kind of the center of campus, and it's the prettiest building."  The library environment includes artwork, computers, the Career Center, and people to help students. Kitchens added, "It's a neat, nurturing place where people come together."
Considering California's ever-looming budget cuts, Kitchens foresees Campolindo's biggest challenges to be declining enrollment and maintaining the variety of course electives offered.   She explained that "it is hard to lose great, talented teachers who connect with students," so she hopes that MEF and the Parent's Club will continue to help maintain Campolindo's programs even when the state of California cannot.  Kitchens added, "Our parents and community always step up and support our schools.  I know that this community is proud of the students and this school."
"I just know that with the new principal, John Walker, our school will continue to thrive.  He's going to come in and look at the school through a different lens and will see all of the wonderful things that we have.  I think he will capitalize on our strengths and make even more improvements," said Kitchens.
Recalling her own selection as Campolindo's principal, Kitchens said, "That was the pinnacle of my career.  I thought, 'this is the school that I always wanted to be the principal of.' "  Kitchens said "Campolindo is fortunate to have a new leader who appreciates what we have, and he's going to take it and move us to the next level."
Included in Kitchens' retirement plans are earning her scuba diving certificate, taking up golf again, spending more time with her mother, her husband, who is also a high school principal, her daughter in Scottsdale, Arizona, and another daughter in the Dutch West Indies, working on her garden, and traveling, if time permits.
She plans to visit Campolindo in the future, but Kitchens explained that she will not be visible like she was as a principal. She expects to be more of a "fly on the wall" when she is able to attend games, musicals, and plays.  Most of all, Kitchens looks forward to hearing about all of the great things that lie ahead for Campolindo.