XC Hosts 1st Ever 5K Track Race
The Campolindo Cross Country Club concluded its fall training program with the 1st ever 5,000 meter track race in Bob Wilson Stadium on November 7. Top finishers, sophomores Ellie Buckley and Alexander Lodewick, were automatically seated as the event's school record holders with times of 18:14.48 and 15:50.86, respectively.
Although the 5k event is common amongst varsity cross country teams and collegiate track competition, running 1 on a track is very rare for high school competition.
"This was an opportunity to do something different, so while the COVID pandemic has forced us to scale down in some respects, it's provided an opportunity to do new things," said cross country and track head coach Chuck Woolridge.
Woolridge decided to include a 5k in the fall training calendar after agreeing with other Northern California coaches to all run 5k races and "merge the results, and kind of do a comparison from team to team." Another team that ran the 5k was Maria Carillo, a rival in the North Coast Section and CIF State Championships.
According to Lodewick, whose record-holding time is just shy of his personal best from last year's cross country state championships, running a 5k on the track versus a cross country course has its advantages and disadvantages.
"The most noticeable difference for me is that a 5k in cross country feels way shorter because you feel very productive running through new places [on the course] and through the trees. With the track, it feels longer but it is easier to keep on pace because it's a 400m loop and all flat," said Lodewick.
Regardless, the unique distance provides athletes with the chance to test their stamina, as well as to adapt their race strategy in order to compete at longer distances.
"It's much more a race about being patient, and clicking off splits, particularly in the 1st half. It's also a race where you can go through, I think, emotional highs and lows, because you're out there for 15 to 20 minutes, and I think some of our younger athletes struggle to maintain the kind of competitive attitude over that length of time," said Woolridge.
"This was definitely a new challenge, but it was a great learning experience for them having to really focus on splits and kind of maintaining their presence in the race," added Woolridge.
After completing workouts focused on building endurance and maintaining focus, many athletes were excited to test their abilities in their longest race of the season yet. However, especially for newer athletes, the added distance was daunting.
"I knew it was going to be longer, but I felt the confidence that up until this point I tended to perform better at longer distances, my main concern was that I would use up all my energy so I approached the race cautiously and held back, definitely too cautiously," said freshman Cale Anderson.
For his race strategy, Anderson added, "Rhythm is key, my feet tend to fall in a pattern like the beating of a bass drum. To stay focused I often compared myself to the people around me, in a good way, and set goals, such as stick with him he's fast or try to pass her this next lap to gain ground."
Should future circumstances allow, Woolridge envisions "having a similar type of distance Carnival, where we offer distances that are infrequently run in high school competition."
"This experience of working with the sports club program through the COVID pandemic has definitely allowed coaches to be more creative and think outside the box in terms of how to set up a season and what kind of opportunities we can provide athletes," said Woolridge.
Anderson looks forward to running more long distance races as "every opportunity is a chance to learn, and by giving athletes this chance they have the opportunity to perform better in the future."
"I would love to run another 1 in the future because I know I will get a personal best and another school record, too," agreed Lodewick.
With the fall season coming to a close, the Cross Country Club will transition into an 8-week winter training program beginning November 23.
"I don't see it as the end but rather as a beginning, the opening act to a new and even better season," said Anderson.
About the Writer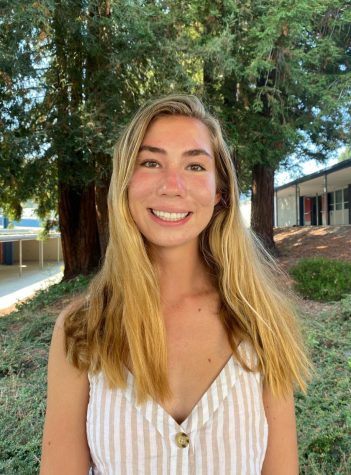 Gracie Woidat, News Editor
Senior Gracie Woidat has a passion for both working and caring for people and animals. She has found her calling by volunteering at the Lawrence Hall of...