Tutus and Tackles: Female Footballer Joins Freshman Squad
Ballet dancer freshman Pinkie Schnayer hurdled societal norms to become 1 of the 1st girls to play for the Campolindo football team.
Before Schnayer, Campo alumna Kimberly Anderson was a kicker from 1994-95.
While it's premature for the team to have set positions, Schnayer has been practicing with the freshman team as an offensive and defensive line.
Schnayer 1st became interested in football in elementary school when her older brother, Colby Schnayer, joined the team. "Being a younger sibling, I had to go to all of his games and I really enjoyed watching them. So he was probably my biggest inspiration," said Schnayer.
According to Colby Schnayer, his sister is "headstrong, stubborn, relentless, [and] brave," which are "some of the most important characteristics needed in a football player."
Schnayer played many different sports growing up including basketball and soccer, but said she "stuck with and dedicated most of [her] life to dance." Schnayer has done many different genres of dance, but her specialty is ballet.
"I think ballet actually helped a lot with different aspects of football, so it's really cool seeing how they intertwine," said Schnayer.
Luckily, Schnayer has been able to balance both ballet and football as practices are on different days.
In addition to Schnayer, freshman Piper Lalli has been practicing with the team. "We both just happened to join the same year, it was just a coincidence. It's really fun having another girl," said Schnayer.
Coach Darrel Breedlove is thrilled about the addition of Schanyer and Lalli to the program.
"As soon as I heard each had decided to play, I had 2 thoughts," said Breedlove, "1st – good for them, [and] 2nd, I hope they'll stick it out."
According to Breedlove, there "doesn't seem to be any 'quit' in either player."
Despite the sport being primarily male-dominated, Schnayer has been welcomed with open arms.
"So far I've been really lucky and I haven't had a lot of additional challenges, which I'm really grateful for," said Schnayer.
Schnayer is also appreciative to have "such a strong support system," of teammates and coaches who have mentored her since joining the team.
"My teammates continue to push me to do better and they're also very helpful for getting to know the sport," said Schnayer.
Another mentor of Schnayer's is her older brother Colby Schnayer, who helped her with additional lifting and training over the summer.
"To be successful in football, there is a lot of work that has to be put in off the field, either in the weight room or studying film," said Colby Schnayer. "A majority of what I've been helping her with is becoming a student of the game and creating a solid foundation off of which she can build her next 4 years of football upon."
However, Colby Schnayer has "avoided being too involved," when teaching football, and said he is instead, "focused on passing on the advice," he wished he knew as a freshman.
"Football for me was much more than a sport, it was a family. So I let her know, enjoy every moment of it while it lasts, and pour your heart and soul into it because, at the end of the day, you get back what you've put into it," said Colby Schnayer.
Pinkie Schnayer's advice to other girls considering playing football is to "just give it a try because you never know what would happen if you don't try and you might grow to love it."
"I'm very proud of how unphased and undaunted she [Schnayer] is as she begins this next step in her life. I hope that she is able to attain the takeaways and lessons learned that I was able to from football and inspire more girls to jump that societal hurdle and give it a try," said Colby Schnayer.
Leave a Comment
Your donation will support the student journalists of Campolindo High School's The Claw. Your contribution will allow us to produce more issues and cover our annual website hosting costs.
About the Contributor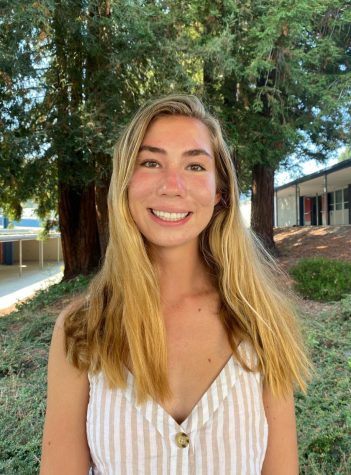 Gracie Woidat, News Editor
Senior Gracie Woidat has a passion for both working and caring for people and animals. She has found her calling by volunteering at the Lawrence Hall of...