Scholastic All-American Swimmer Chooses Brown
In pursuit of a both academically and athletically rigorous environment, senior Zach Le-Nguyen committed to Brown University for swimming.
Throughout his 4 years on the Campolindo varsity team, Le-Nguyen earned a number of accolades, including NCS Championship, Scholastic All-American titles, and qualifying for Summer Junior Nationals.
According to Le-Nguyen, Brown's Open Curriculum, which will allow him to "explore a variety of classes," is what initially drew him to the school.
"Paired with its exceptional academics, this gave Brown an edge over other schools, but it was their swim team that really sealed the deal for me," said Le-Nguyen.
Inspired by Brown's head coach Kevin Norman and the swimmers on the team, Le-Nguyen knew that he "wanted to be a part of a team with that level of determination."
According to varsity swimming coach Ron Heidary, Le-Nguyen is "as committed in the classroom," as he is "in the pool."
Despite foreseeing difficulties in managing both his rigorous academic and swimming schedule at Brown, Le-Nguyen feels well prepared for what lies ahead.
"My years at Campo have been challenging, yet manageable enough for me to be confident that I'll be able to handle this next step up in college," said Le-Nguyen.
Le-Nguyen's teammate, senior Issac Kim, thinks that "Brown was a good fit for him as he will have an almost unparalleled experience balancing rigorous academics and a challenging athletic program."
Heidary is also supportive of Le-Nguyen's decision and predicts that he will "add a lot to that [Brown's] swim program," just like how he has "made a profound difference," in the Campolindo swimming program.
At the age of 7, Le-Nguyen "quickly fell in love with the competition and camaraderie that comes with the sport."
It was this passion for the sport as well as his desire to follow in the footsteps of his mother, who swam competitively at UC Davis, that made him want to swim in college, according to Le-Nguyen.
Le-Nguyen's dedication to the sport has since become apparent to both his coaches and teammates.
"Zach is one of the hardest and most talented workers I've ever had the privilege to train with. His work ethic is absolute and unrelenting," said Kim.
According to Heidary, Le-Nguyen has "shown that you can be a positive kid and likable, but you can be intentionally hardworking and you can achieve great things."
"He's one of the best teammates that I've coached in 30 years. He sets an example just through his actions. I couldn't ask for a better leader and teammate than Zach," said Heidary.
During his next 4 years at Brown University, Le-Nguyen's teammates and coaches are optimistic about what Le-Nguyen will accomplish.
"While at Brown, I hope to see him win the Ivy League championships one day. I think he is currently way below his ceiling, and can accomplish great things during his next 4 years," said Kim.
"There is no doubt in my mind that he will be a team captain and lead the program, hopefully to the top of the Ivy League," said Heidary.
Although Le-Nguyen "can't wait to meet new people," and pursue his "academic interests," he is "most excited about swimming," at Brown.
"These will be my last 4 years competitively swimming, and I'm so happy I'll be spending them at Brown," said Le-Nguyen.
About the Writer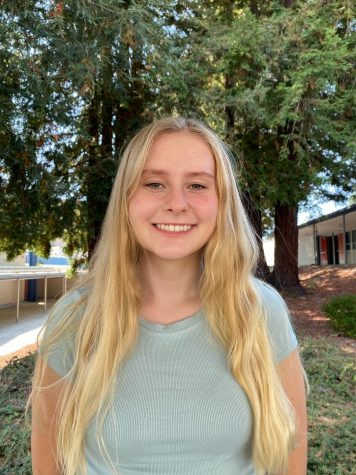 Erika Riedel, Sports Editor
Senior Erika Riedel enjoys volunteering and spreading awareness for multiple organizations. This summer, she volunteered at a number of places, including...