Harvard Commit Continues Training through Pandemic
While the high school spring sport season has been canceled due to the current pandemic, varsity swimmer junior Maggie Buckley has plenty of reasons to keep training, not the least of which is her recent verbal commitment to the admissions process at Harvard University, on May 2.
Before committing to Harvard, Buckley considered Columbia University, the University of Pennsylvania, Georgetown University, and the University of British Columbia. "Harvard wasn't originally on my list because, frankly, I didn't think I was fast enough to compete [there]," she said.
Buckley explained that she had successful "swims that would allow me to explore a higher caliber" university at a swim meet in Pleasanton in mid-November. After improving her times at that meet she emailed Harvard "just to see if [she] could get on their radar and see what would happen with it."
Buckley ended up meeting the Harvard coach in Washington in December and then traveled to Boston in January to tour the campus and spend time with the team. During her stay she was hosted by a current member of the Harvard squad.
Buckley said that she was initially nervous about shadowing a college student, as she worried "it'd be super intimidating."
"Everyone has this expectation that, at the Ivy League schools, everyone's super entitled and such. And that just wasn't my experience and because it wasn't my experience, I felt really attracted to it," said Buckley.
In addition to swimming, Buckley, who hopes to study business and economics, is looking forward to the academics at Harvard. "I attended a macroeconomics lecture on my visit, and the professor was the lead economist for the Federal Bank of Massachusetts, and I was just starstruck," said Buckley.
Orinda Aquatics and Campolindo swimming coach Ron Heidary said, "I have a lot of respect for her…She's one of the best leaders we've ever had, and one of the best team people we've ever had. She's, I would say, [a] consummate teammate, role model, and leader."
Even though Buckley is set for Harvard, she's disappointed not to be able to finish her spring season. "As a swimmer, [quarantine is] pretty detrimental because I am literally unable to swim," said Buckley, "An issue I have is just getting used to a new way of working out that isn't swimming in a pool."
Buckley has continued her training by exercising for 1 to 2 hours each day. She alternates between mostly cardio workouts and body weight workouts and is currently "just trying to stay in shape."
"[The] more this [quarantine] gets extended the more I will move towards getting stronger," said Buckley.
While her current regiment is keeping her fitness up, it's nothing compared to the 2-hour practice sessions she endured 9 times each week before the shutdown.
The benefit to less training though is a lower chance of injury. "When you're out of the pool for an injury, you kind of lose that feel [of the water] and it's pretty scary getting back in there so I just like do everything I can in my power to avoid that," said Buckley.
While circumstances during the social-distancing restrictions have made it difficult for swimmers, Heidary noted that Buckley is talented and believes that she can push through. "She has improved dramatically in the last 2 years, and what is exciting about her improvement is it's because she's worked so hard. And I think she's worked beyond what most kids realize is possible," said Heidary.
Heidary has faith that Buckley will overcome the current situation and enjoy great success in her final high school season. "She absolutely has the drive she's one of the most disciplined athletes I've ever coached in 30 years, so there's no doubt she will."
"I stay motivated by the hope that we will eventually be able to compete again and I want to be in shape for that," said Buckley. "It's kind of comforted me that everyone else is in the same boat… So when I do eventually come back and when my team can compete again and everyone else can do their thing we're all kinda going through it together."
Leave a Comment
Your donation will support the student journalists of Campolindo High School's The Claw. Your contribution will allow us to produce more issues and cover our annual website hosting costs.
About the Writer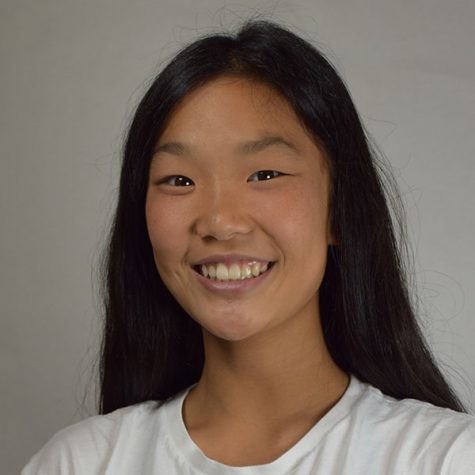 Kylie Choi, Staff Writer
Freshman Kylie Choi enjoys playing volleyball and writing fiction.

"I just started writing stories for fun," said Choi. "I like making up another world...