College Commits Appreciate Community Support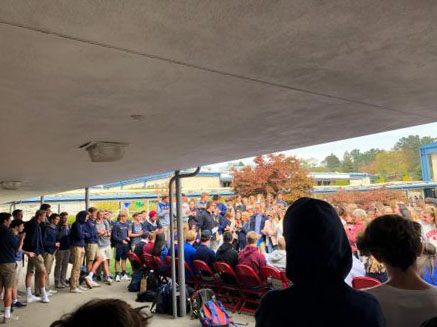 14 student athletes signed their National Letters of Intent in a lunch-time ceremony on November 13, the NCAA's National Signing Day. 
Senior Carter Mahaney, who committed to play basketball at Northern Arizona University, looks forward to the next level of competition college will bring. He said, "At the Division I level, you'll be playing against the highest level of athletes, the best competition in front of large audiences.  So I'm just excited for that competitive nature."
Senior Grant Harper, who committed to play football at the University of California, Davis, said that the ceremony is an important part of his transition to college: "It just shows that all of our hard work has paid off for all of the student athletes that were there.  Just knowing that a school took interest in what you've put forth."
Harper added, "For a bunch of guys their football careers end in high school.  I'm excited to just keep playing."
Harper's teammate, senior Mason Mastrov, committed to Southern Methodist University. 
Senior Tom McGuire committed to play water polo at the University of Southern California. He appreciated the support of the community. "I owe a lot of my drive to the community that pushes me day in and day out," he said
"I think USC is the best fit for me," McGuire added. "I am excited to continue playing and with such a great program."
Other representatives for water polo were Soren Jensen, Lola Cirulli, Nina Munson who committed to Stanford University, University of Michigan and the University of California, Santa Barbara respectively.
Other athletes included Devon Ortman, who committed to play lacrosse at Fresno State University; Josiah Klock and Ryan Lenahan, who will dive and swim, respectively, at Boston College; Paloma Hancock, who will run at Johns Hopkins University; Audrey Pak, who will play volleyball at the University of California, Los Angeles; and Trip McKinlay committed to play baseball at the University of Washington.