Pak Leads Volleyball to NorCal Title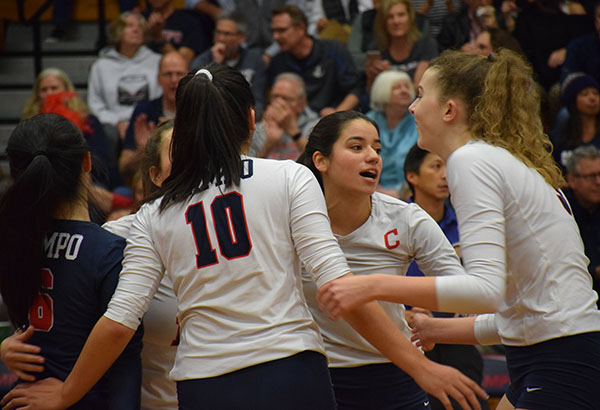 The varsity girls' volleyball team beat Menlo-Atherton in the CIF NorCal Championship Game, capturing the NorCal title for the 1st time since 2012, at home on November 19. 
Assistant coach Bryan Lee believes that this year's team is especially strong due to the leadership of senior setter Audery Pak and the hard work of several juniors on the team.
"It obviously helps having a UCLA recruit setter [Pak] be present all the time, but I also think it is the mindset of everyone on the team. There is not that many seniors and a lot of juniors and those juniors have really been able to be in the program for a really long time and are really growing more comfortable in their roles as starting players," said Lee. 
The Cougars won the 1st set 25-14.  The continued their roll, winning the 2nd set 25-19. Although Menlo-Atherton won the third match 25-20, Campolindo roared back in the 4th set 25-14, to claim the title.
Junior outside hitter Molly Mitchell attributed the team's win to their mental fortitude. "I think we were mentally tougher than the other team and we wanted it so much more and we knew that our season was depending on it," said Mitchell. 
Mitchel, who scored the winning point for the Cougars, said, "It was such an amazing feeling. It was so fun to watch all the videos afterwards knowing that I scored the last point." 
Junior libero Brianna Lee is excited to see how the Cougars fare in the upcoming State Championships. "I think that our team does a really great job of performing well in big moments," she said. "Our coach has been talking about how we haven't played the game of our lives yet and this is the last moment for us to take advantage of that and [wants] everyone play to their greatest potential so I am really excited to see how we perform there."
The team will travel to Southern California for the Division I CIF State Championship game against Vista Murrieta High School on November 22.